App Ideas For Students – Education Apps Idea To Watchout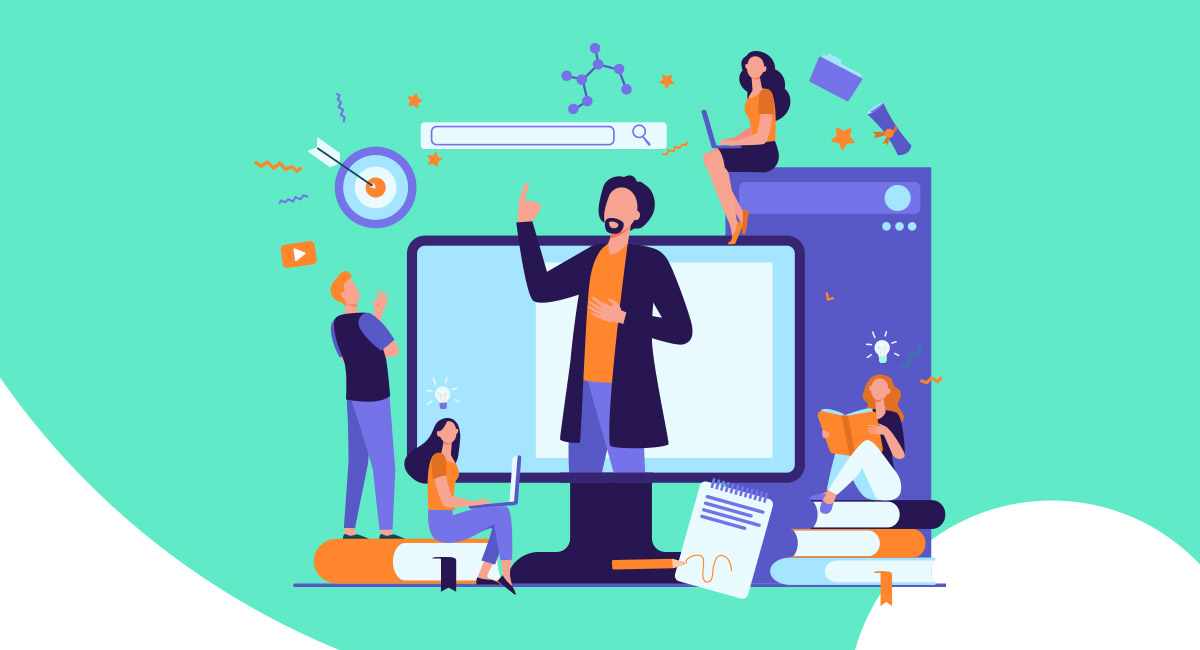 The way the internet and technology have flourished is astonishing, and it gave a completely new scenario to the world. Technology is advancing day by day and making the lives of people more accessible and flexible. The internet world has been revolutionizing and overall very impactful. In recent times the education apps have become popular and very helpful to students. More and more education app ideas for students are generated and making their way.
[toc]
Modern technology has completely changed the scenario of the education sector and has been so helpful to students. The evolution of the education world is completely unimaginable at times, but thanks to technology and the internet. Nowadays, students can learn from any part of the world with a mobile app or laptop and internet connection. The concept of online education is possible due to advancements in digital technologies.
The amount of hype that online education has created is exciting, and students are taking advantage of it effectively. There are various apps that are offering free and paid courses to students. Not only students, these are the apps that are offering certified courses to working professionals also so that they can enhance their skills and grow more in their respective careers.
The digital source of education has become more flexible for the students to clear their concepts, and they can learn very quickly. The demand for digitization in the education sector will increase in the near future, which is why new app ideas are being generated, keeping in mind the flexibility given to students.
Education App Downloads Worldwide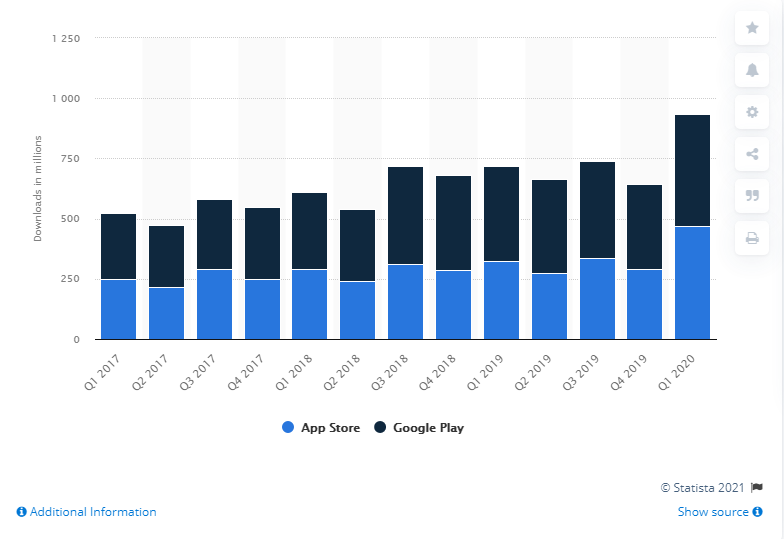 image:Source
How Do Different Education App Ideas Look Alike?
The education sector consists of many attributes, from online learning to online libraries and study materials. The examinations are also taken online these days; hence there are different apps that can look out the certain aspects of educational requirements.
The different app ideas can vary as per the requirement, and one can easily integrate the use of digital technologies these days for running their entire sector. The educational institutes can take advantage of these educational app ideas, help their students, and manage their education department effectively.
1. Study Material App
The study material is very important for students, and they often find it challenging to find the study material offline and also, the burden of books needs to be handled. An app for study materials can be very helpful to students. The app has complete study materials, and students can find their eBooks and materials required just by searching in the search bar. It is the type of app that the education sector should provide to their students, and it can be considered a virtual library for students.
2. Live Classroom Apps
The mobile app that helps in taking live classes is very helpful and makes things easier for both the teacher and students. These are the kind of apps that are more helpful in running online education, and students have taken advantage of them effectively. Virtual classrooms are very useful, and students in any corner of the world can join them and learn like they used to do in their offline classrooms.
3. Examination Apps
Examination apps are very helpful for educational institutes as they can conduct the exams online, which is very flexible. The app can be designed in such a way that students cannot misuse the online examination by cheating. The examination can be proved very important as if you are teaching online; you need to conduct the exams online. Hence, this is how online examination apps are helpful to educational institutes.
4. Q&A App
Q&A app is the question and answers app that will allow the students to ask questions anytime they have doubts. All the tutors are also connected in this app, and they can answer the queries of students at any time once they see the questions asked by students.
The typical Q&A sessions can take so long, and also sometimes, teachers are not free, and there are many students to manage. All these hurdles can be easily solved if there is an app where students and teachers can interact at their convenience.
5. Assessment app
The schools and colleges have many students to manage, and it can be difficult to effectively track each student's progress. The student assessment app can be very helpful in maintaining the students' progress and all the attributes like attendance, PTA, internal markings, etc., that can be helpful in tracking the students' progress. The assessment app is something that educational institutes must include, and it can be very helpful to them and parents.
6. Dedicated Students App
The dedicated apps for students are the apps that allow students to set reminders for their studies and homework, and they can schedule their study times and syllabus using it. It gives flexibility to students in studying and allows them to differentiate appropriate time to their subjects and properly manage everything. Hence, dedicated students can be good education app ideas to watch out for.
7. Preschool App
The Preschool app is dedicated explicitly to small kids aged 2 to 5. This app consists of poems, rhymes, games for kids, and they can indulge in it with some excitement and fun, which obviously kids love. These are the apps that can be best for parents who are struggling to make their small kids learn easily. Hence, preschool education app ideas will be trending.
8. Certification Course Apps
The on-demand course apps are gaining popularity recently, and apps like Udemy and Coursera offer certified courses to students and professionals. Numerous certification courses help students and working professionals uplift their careers and help them grow. These are the apps that have already gained popularity and are changing the scenario of the education sector.
9. Numerical Solving Apps
Mathematics and numerical are something that students find difficult, and it is very tricky even if your concept is clear. The dedicated app for numerical and mathematical problems can be very helpful to students as they don't need to contact their tutors every time when they face problems in solving the numericals. Students can easily increase their numerical ability with these kinds of education app ideas.
10. Augmented Reality App
AR apps are going to make the future of the education department very bright and innovative. These are the apps that will allow students to clear the concepts more clearly and concisely. The AR apps can be an essential turnaround in the education sector.
The learnings for students can be more profound because all the things that are untouchable can be explored using this concept. Hence, students will not have to imagine things due to augmented reality education app ideas.
Additional Reading: Best Chrome Extensions for Students
11. Teamwork app
Keep your team in sync with powerful team-sharing features. Onboard your members on the panel and easily get your ideas across via team clipboards and shared folders to make collaboration as easy as a dream. While preparing all kinds of group projects, students can be incredibly stressed and might feel like drowning in piles of documents. Thus, teamwork apps, like Markup, provide a platform for sharing information online with crewmates. Efficiency can be greatly increased.
Digital Education Market Volume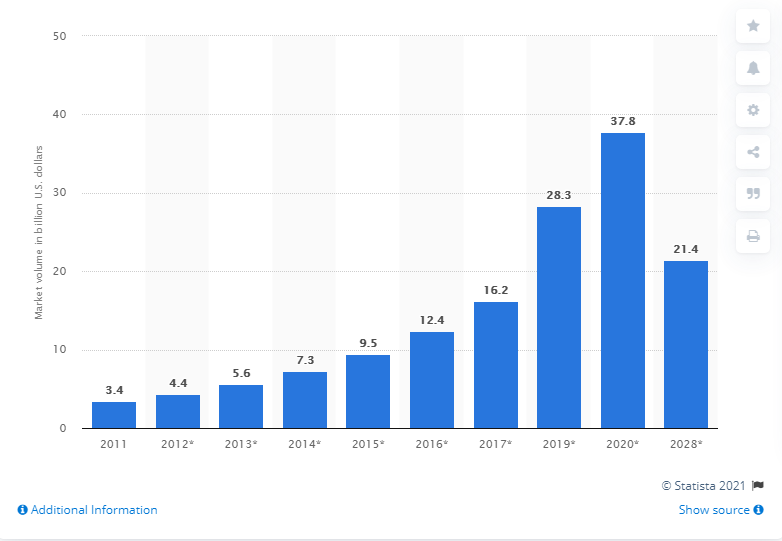 image: Source
The education sector has evolved a lot, and currently, the market volume for education apps is at its peak. To be precise, the current market volume of educational apps is 37.8 billion USD as per the reports from statista. Hence, it is time to generate more and more education app ideas, uplift the entire sector, and give students maximum resources to rise and shine.
Best App Ideas for Students that You Can Steal To Launch Education Startup
The education app ideas listed here are already trending or on the edge of getting popular because these are the apps that can transform the entire education sector, and it can be valuable to students. Hence, the education app ideas are getting generated, and the technology has been very helpful in making that idea into reality. The app development companies are giving robust solutions and enhance your ideas into reality with perfection.