[vc_row][vc_column][vc_column_text]
How Much Does It Cost To Create Glovo Like App:
Explore Everything About Glovo Clone App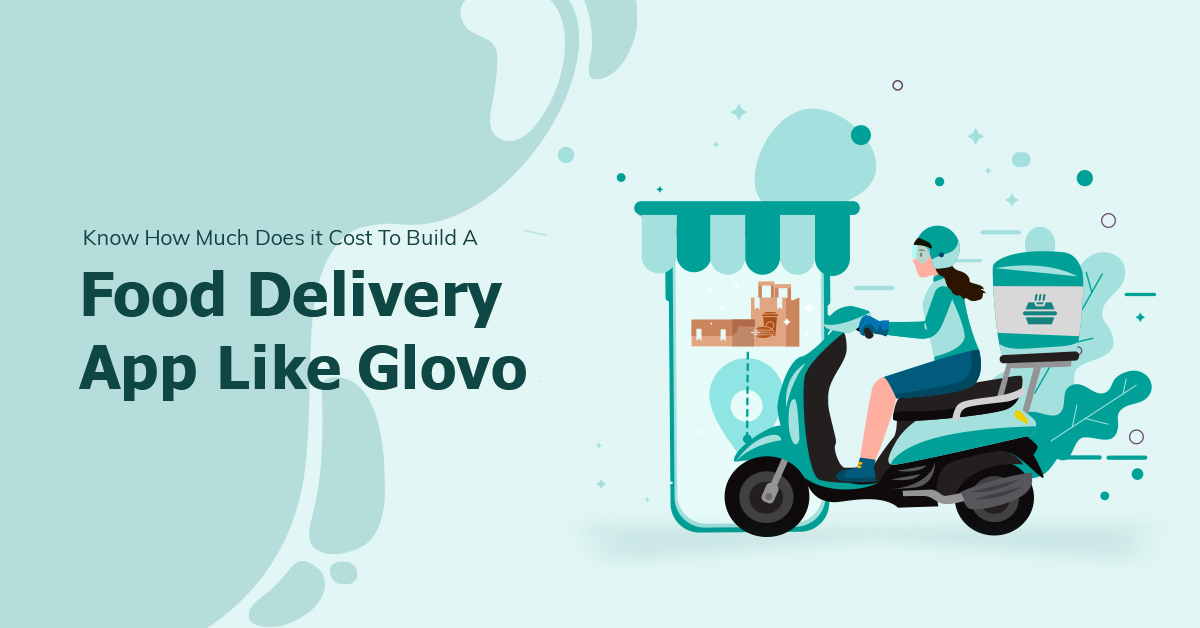 The food industry is changing drastically with each passing day. Most of the food dealers turn to give a modern touch to their business as it helps them provide more convenience and comfort to end-users helping them order their favorite food and get it delivered right at their doorsteps.
Its share is also forecasted to be fastest-growing, especially when it comes to the global food market. A report by Frost & Sullivan shows that the food industry will scale up and hit around $200 billion by 2025. In the present food market, Uber Eats valued at $20 billion, with annual revenues of $1.4 billion. It has also established its branches in more than 670 cities successfully.
These can be just the beginning. It forecasted that more impressive figures could note shortly as more eateries consider turning their faces towards app development. They choose to craft an excellent solution for their business like glovo clone or any other helping them cater to all the market and customers' needs in the most effective manner.
Quick Intro of Food Delivery Apps Like Glovo
In today's modern era, many food ordering and delivery apps are available in the market, making food lovers' tasks easier and quicker. It encourages them to order more food right from the comfort of their sofas and get it delivered right away at their doorsteps.
Some of the popular food apps' names include UberEats, Postmates, Doordash, Zomato, Swiggy, Glovo, and many more. Glovo is a Spanish start-up founded by Oscar Pierre in Barcelona in 2015. It is a users demand delivery service that purchases pick up and delivers products ordered through its mobile app. It has gained immense popularity and success in the market due to its business. Thus many of the food giants are considering opting for an app like glovo; they are considering craft or investing in a ready-made app like glovo available in the market.
As numerous apps are developed and launched in the market, food aggregates face quite fierce competition in their field. Expectations of people are increasing dramatically; hence it becomes vital for businesses to satisfy all of them systematically, and how can they do it? By giving a modern touch to their business. They can consider craft on-demand apps helping them to serve and satisfy all their customer's demands in the most accurate and useful way.
Some of the Interesting Facts & Figures to Have Look into
These facts and figures show clearly that on-demand apps have become one of the best options for eateries as it helps them to expand their business reach by serving the best food ordering and delivery service to gastronomes. It provides them with the best opportunity of offering their foodservice right away at customers' doorsteps. Thus it will be a profitable decision for any eateries to consider investing in solutions like glovo clone or crafting any other app from scratch, helping them build an online presence for their business in today's market.
Food ordering and delivery apps have become instant solutions for food lovers to get their favorite meal delivered right at their location. The increasing use of mobile apps has made it mandatory for businesses to invest in it and has raised numerous questions in their mind like:
How much does it cost to develop an app like glovo?
Which features and functionality they must consider including in the app solution?
How long will it take to develop an app from scratch?
Will it be a better option to opt for ready-made solutions available in the market?
Why Choose Glovo Clone App Development for Your Business?
Comfort and convenience of enjoying the food right at any of the locations have encouraged people to download and use on-demand mobile apps. The food delivery industry is growing dramatically by fulfilling the gap between the online and offline world. It predicted that online demand would affect the offline market to a great extent. Thus it will be a better option to invest in glovo clone app development. There are numerous benefits that businesses can leverage while considering craft mobile apps for their restaurant business.
Benefits of Crafting Mobile App
Increase customer engagement.
Reduce costs.
Helps to meet customers' demand.
Increase recognition.
Improved visibility.
Mobility Solution: Various Challenges to Overcome While Crafting User-Centric App
There are numerous things that any of the individuals have to pay attention to for creating a user-centric app for their restaurant business. According to Research and Markets research, the global mobile app market value predicted to reach $407.31 billion by 2026, which is high from $106.27 billion in 2018. There are various questions and hurdles which any of the individuals face, especially when they consider developing glovo clone or any other such apps developing an app from scratch.
Platform Selection
Choose App Functionality
Language Selection
Maintenance and Deployment Cost
Features Included in Glovo Clone App Solution
No matter which size of business you are thinking of creating a mobile app like glovo or any other based on different business models. It helps them provide a seamless experience to customers by satisfying all the demands most effectively. Glovo clone app includes all essential modules and features, ensuring business advancement and success.
There are different types of modules like Customers, Delivery Provider, Admin, and many more having essential features encouraging business success by allowing them to have full control over their business. Explore to know which features included in the solution stack, help vendors monitor each activity of the company efficiently, and cater to each customer's requirements.
Customer App
Social Registration and Login
Order List
Filter
Map View
Add to Cart
Rating and Review
Social Share
Delivery Provider App
Phone Verification
On/Off Service
Earning Details
Referral Sharing
Transaction Request
Route Optimization
Calling and Messaging
Store App & Panel
Manage Product
On/Off Product
Define Most Popular Items
Settings Support
Set Order Cancellation Charges
Set Minimum Order Amount
Manage Delivery Provider
Admin Dashboard
Add Counties and Cities
Profit Mode
Wallet Management
Manage Users and Delivery Providers
Push Notification
Cart Info
Earning Details
User Panel
Create a Profile
Filter
Multi Outlets Access
Product Details
Online Payments
Add Favourite
Real-Time Tracking
Concluding Note
When you aim to develop an excellent performing app solution for your restaurant business, it becomes vital to seek the support of developers or mobile app development companies. It has expertise in development tasks and helps you get excellent apps crafted for your business.
Even you can go for finding a ready-made solution similar glovo clone, helping you to manage each activity efficiently and provide excellent delivery service to customers on their demand. Remember that the development cost entirely depends on the business requirement. Thus seek the support of the app development, ensuring you craft an excellent app solution suiting your business requirements at a pocket-friendly price.
More tricks for better organization of the work of mobile developers in this source : https://www.timecamp.com/blog/2018/11/best-free-task-software/ [/vc_column_text][/vc_column][/vc_row]