We Are Exhibiting In GITEX 2018 Dubai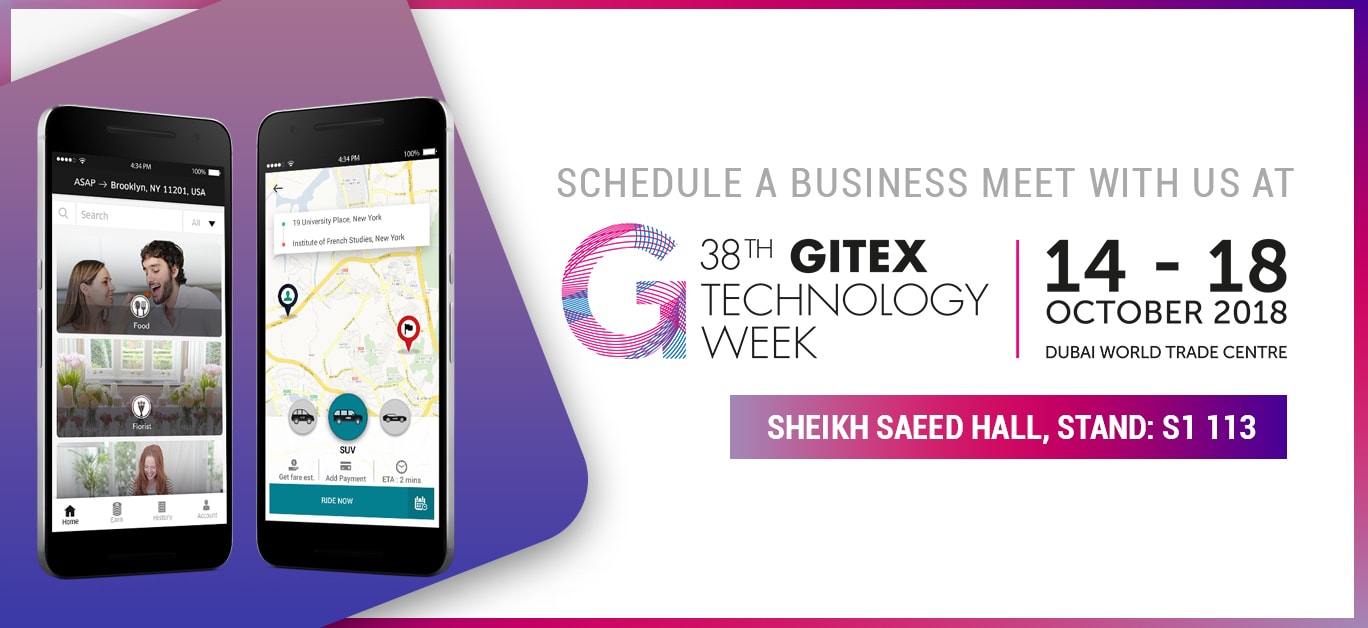 London – United Kingdom, 1 October 2018 – More than 4500 exhibitors are going to participate from 100+ countries all over the world in the 38th edition of GITEX technology week 2018. This event will take place at the venue that is Dubai World Trade Center for 14-18 October 2018 in Dubai. Technocrats are all set to join the hands and show the latest approach to technology. While this edition of GITEX 2018 is going to focus on AI and Startups.
GITEX 2018 Dubai is expecting the highest number of techno-enthusiast attendees for this event. The number of visitors expected for this year's edition is 100,000 that will be the highest number of visitors ever since the begging of GITEX in 1996. Total 290 hours of conferences and seminars are going to take place for the prominence of knowledge. The experts will share their intelligence on different topics like AI, Robotics, Technology, and Innovations as GITEX 2018 says Experience Future Urbanism.
Different sponsors, technology partners, supporting and contributing partners, strategic partners, corporate partners all are working hard since last few months to make this event successful. It is said, there would be 200+ government departments are going to showcase their technological achievements which actually helped them raising up the standards of public and communal living. This all would be spread across 21 halls collaboratively in the total space of 1.3 million sqft where more than 4,500 exhibitors will emphasize the ever-growing size of this event.
Big tech names like Amazon, Google, Microsoft, HPE, Alibaba, Huawei, and SAP are going to unveil some of the latest technological inventions of them during GITEX 2018. This five-day event is going to help the investors taking the hard decisions on simplified technologies. The standard and quality of living are surely going to improvise as many people will take the inspiration from here, work on innovations with the aim of providing smoothen life after the successful end of GITEX 2018 Dubai.
App Emporio is going to participate in GITEX Technology Week to showcase our world-class business solutions. We are exhibiting our Eber – on-demand Taxi App, E-Delivery – an all in one edelivery app, AOC and A-Live – our futuristic steps for giving the healthcare industry an advantage of technology. Visit us at Sheikh Saeed Hall, S1 113 or contact us on our e-mail address to schedule a meeting. We will wait for you at the venue for a warm handshake!
About AppEmporio
AppEmporio is pioneer on-demand app developers serving worldwide from the business centres situated in India, United States of America, Switzerland, United Kingdom, Netherlands. The company with wide experience in the development of on-demand service apps for every domain has deployed hundreds of apps and satisfied clients across the globe.
With 50+ professionals on board working together to show the best skills in the form of highly advanced and modern apps. With the aim of providing the quality apps, they have designed fully customizable, reliable, scalable white label solutions to get your business started as soon as possible.
Contact Details
Deep Moteria
+44 207 993 5591
[email protected]
Address
United Kingdom
19 Whytecliffe Rd S,
Purley ( London ) CR8 2EZ