[vc_row][vc_column][vc_column_text]
How Do Free Apps Make Money: Interesting Ways to Bring in the Cash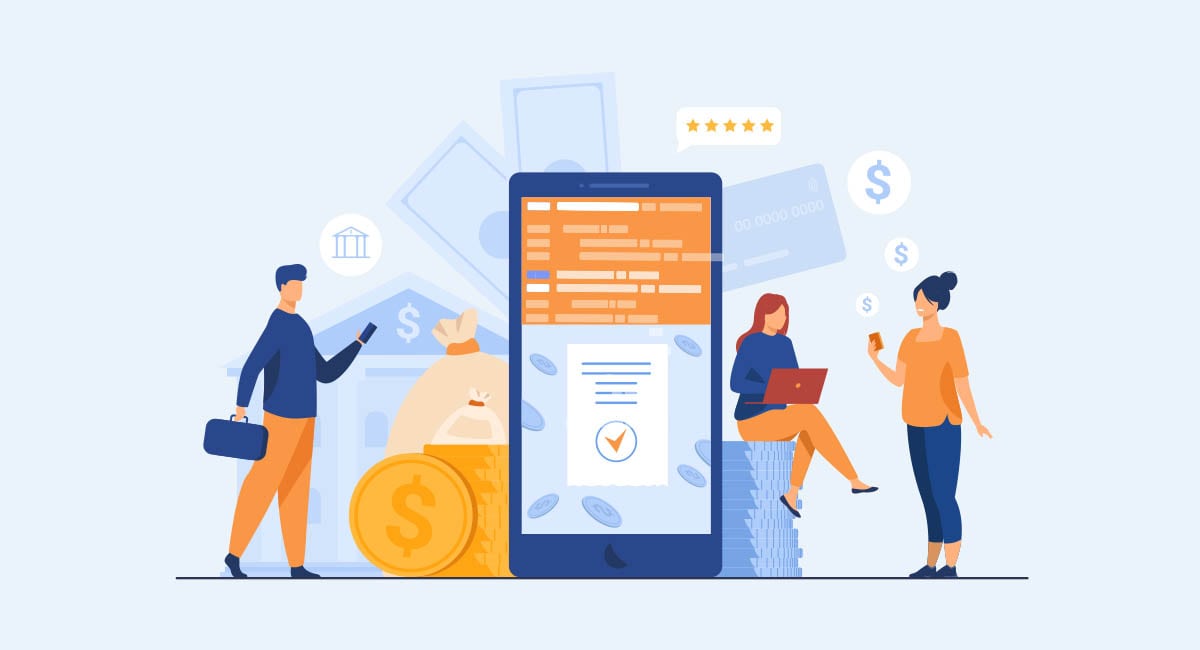 Smartphones and mobile applications have taken the world by storm as people are addicted to getting things done quickly. Be it paying bills, ordering food, looking for property, or anything else, mobile apps are the best ways to get things done. The mobile application market has shown tremendous growth, and it will continue to amaze people every day with new techniques and technology. Now you must be curious to know how do free apps make money? Let's dig in detail and understand some tried and tasted app monetization strategies.
Besides, more and more businesses are also spending huge money on app development as it has become a prominent marketing tool to stay in touch with their customers. As a business owner, if you feel the need to have a free app developed but skeptical whether the idea is worth investing in? Well, you are right at our place.
[toc]
But you get surprised to know that the majority of free apps make huge money. More than 90% of apps in the Google Play Store and App Store are free to download. Yes, still, it makes huge money. Free apps have captured a huge market as it drives $71.3 billion revenue.
Sometimes it sounds like a folk tale but you can't deny the fact that free apps generate huge revenue because the "free" label does not stop them from making impressive bucks. So, now you must be excited to know how it is possible? In this post, we are going to share detailed information backed up by facts and figures that help you understand how free apps make money. So let's get started.
Why Mobile App Market Keep Soaring: An Overview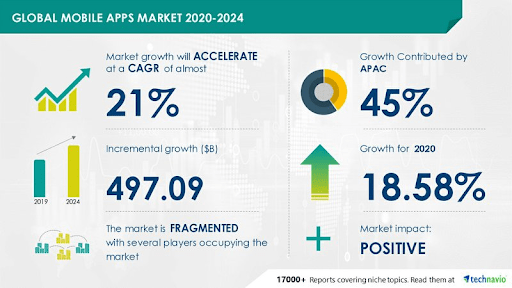 Source: (AP News )
The app industry has been experiencing immense growth in the last decade and even has no downside.
There are on average three billion smartphone users across the globe, which means half of the population owns a smartphone, and this eye-popping number is expected to rise shortly. And this smartphone revolution clearly offers a huge opportunity for the global app market.
Global App Market
The worldwide mobile app development market is not growing but exploding, and the projected growth rate is $497.09 billion amid 2020-2024, and the impact of the Corona Pandemic is important in this colossal growth of the mobile app development industry.
Here we are going to present country-wise statistics that help you understand the app development market more precisely. According to App Annie's market analysis,
| Country | Growth (In%) |
| --- | --- |
| Global | 45 |
| China | 80 |
| India | 190 |
| United States | 5 |
| Brazil | 40 |
| Indonesia | 70 |
WhatsApp is the most downloaded app of 2019, followed by TikTok and Facebook Messenger. (Sensor Tower)
Around 4 billion shopping apps were downloaded in 2019. (App Annie)
Gaming apps, shopping apps, food delivery apps, etc., come first into the app download category. The coronavirus pandemic led people to turn increasingly to their smartphones for work, comfort, and stay in touch.
Mobile app installs and usage surged amid the pandemic as people are confined inside their homes and fulfilling their regular activities using their smartphones. Consequently, in the first ten weeks of 2020, sales of Android apps grew by 5% to $360 million, and sales of iPhone apps rose 18% to $690 million.

Paid Apps vs. Free Apps- Need to Know Differences and Statistics
A lot of non-technical people usually get confused between free and paid apps as they don't know the major difference between them. So here we need to understand everything from that adage.
Due to the current economic climate and business uncertainty, more and more entrepreneurs are wondering if developing an app and offering the same for free is an excellent way to attract customers and give your business greater resilience. And popular brands like HBO Max, UberEats, Amazon, etc., are offering their services for free, business owners want to follow the same path.
Before jumping to the statistics and pros and cons, let's first understand the meaning of free apps and paid apps.
Free Apps
As the name itself suggests, free apps are free to download and allow users to enjoy the primary features within the app. If users want to unlock premium features, they need to purchase them.
Many brands usually follow a freemium model because it allows them to attract more customers, and this model is great for games, shopping, and entertainment apps. Here you can consider the example of the music streaming app, Spotify. Users can listen to songs, podcasts, everything, but if they want to listen to them offline, they need to upgrade.
Paid Apps
Paid apps are also referred to as premium apps; these apps cost users a one-time fee to download from Play Store or App Store.
If your customer base is strong and users are already hooked with your brand, this model is best as you can make money with every download.
Free vs. Paid Apps Statistics
You might get shocked, but more than 91% of apps in the App Store are free apps, and 96& of apps on the Play Store.
Approx. 50% of all smartphone users have never paid for an app
98% of revenue comes from free apps across the globe
Users don't feel willing to pay money for shopping and utility apps. According to the data study of more than 3900 paid apps, people prefer to pay money only for gaming and educational apps across both leading stores.
Free apps get a higher ranking in the App Store, while Google prioritizes paid apps in ranking.
As an entrepreneur, it can be challenging to decide whether you should opt for freemium or premium; it is also difficult to decide what and how many features to offer in free apps. If you integrate all features in the free version and users are happy with the same version, there is no single reason for users to upgrade. And if your free version delivers a poor user experience, they won't be ready to pay a single penny for it.
To overcome this dilemma, here we have shown when the free app works best and when paid apps work best, have a look at the following table.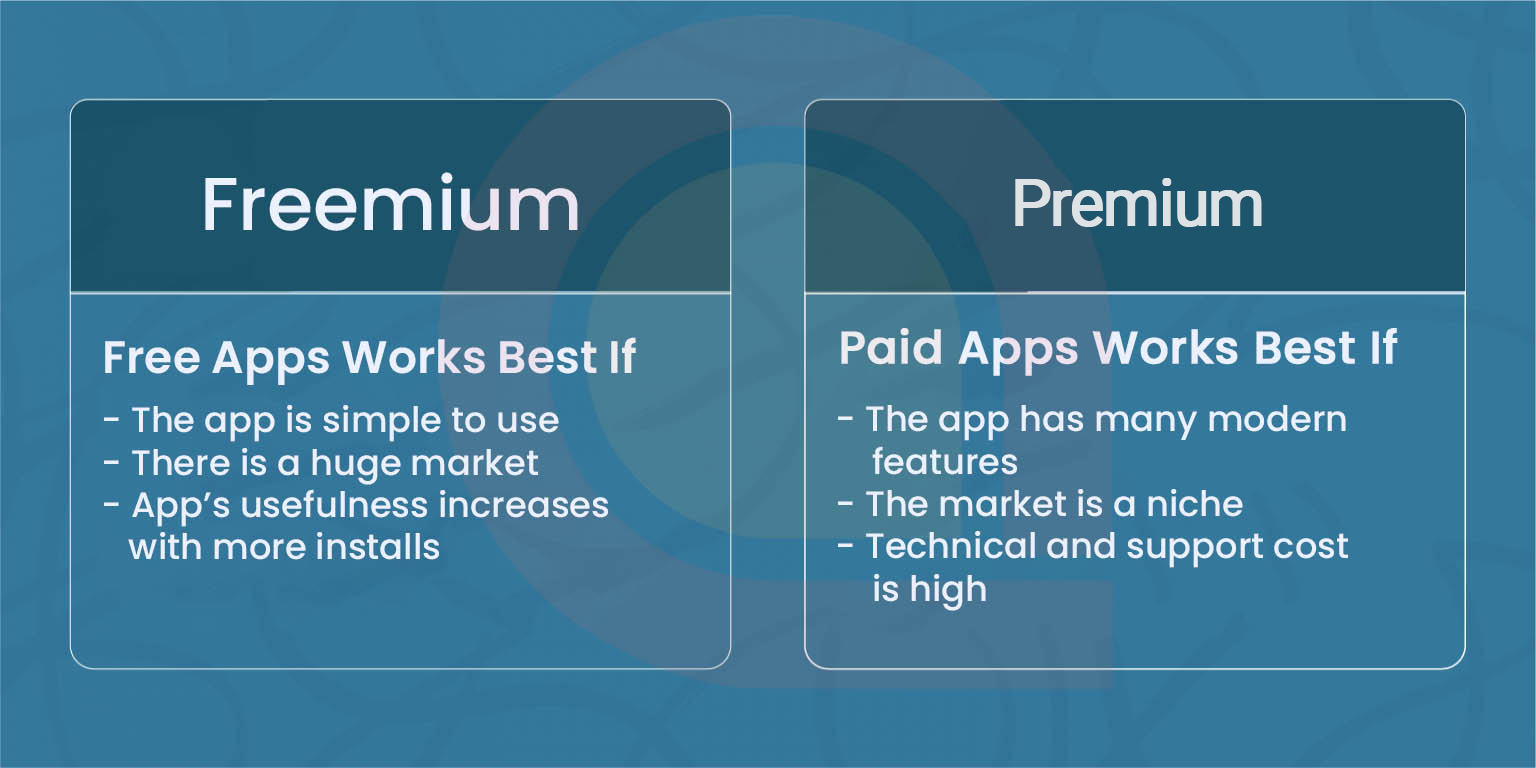 Now it's up to you which app model is suitable to your business requirements and standards. You might also consider keeping your app premium and offering a free trial for a certain period to boost downloads and make the customer base strong in the long run. But there are chances that after the free trial expiry, the user might uninstall your app and go to your rival.
To demonstrate your value and earn customer trust so that they keep coming back to your app, it will upscale your business and increase conversion rate over time.
Effective Revenue Models for Free Apps
Ever wondered how freemium apps generate such huge revenue? Well, the app monetization strategy can vary. Below we have discussed popular and widely-used revenue models to make money from free apps.
In-app Purchases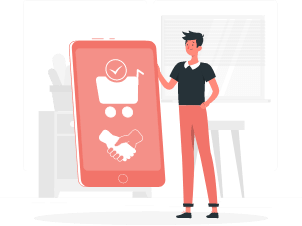 This is the most popular method and leading technique to make money with a free app. The revenue model is quite simple. For instance, gaming apps. Once the user reaches a certain level, the app asks them to upgrade their plan in order to earn some coins, points, and much more.
With in-app purchases, your customer base must be strong. Before opting for this model, conduct market research and check whether your target audience is willing to pay money or not for premium content. Who wants to spend money? The simple answer is people who are enjoying your content and want to get something fresh from you on a daily basis.
Subscription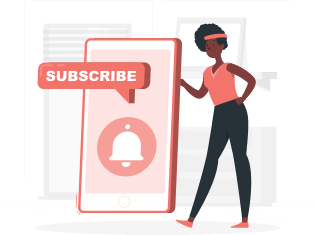 This is another popular way to make money with free apps. The revenue model is simple, your free version offers limited features, and to unlock more features and full access, the users need to subscribe to a plan.
Usually, this model is ideal for content-based apps such as the news and entertainment, where users need to subscribe to plan to get daily new content. Online streaming apps such as Spotify, YouTube, Amazon Prime, Netflix, etc. working on this model and providing new content to users.
Digital Advertisements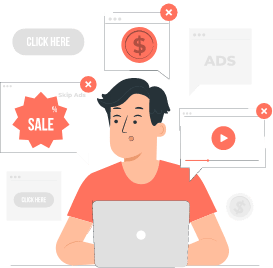 Earning revenue from placing third-party's ads is one of the best ways to make money from free apps. In fact, 8 out of 10 free apps business owners using this revenue model for making money on a wider scale, but there are several types of ads, such as,
Banner Ads
The banner ad is one of the popular ad formats used by brands. App banner is a square or rectangular picture that is displayed at the top or bottom of your smartphone screen.
Video Ads
A video ad is a short clip displayed within the app. Marketers considered this as one of the effective mobile ad formats, but it is somehow controversial because users find it annoying due to loud sound and can't be skipped.
Native Ads
This is the most effective ad type as it is an organic and seamless way to promote your content. The main object of native ads is to display content without obstructing the user flow.
From banner ads to video ads to the native one, placing an advertisement within the app is the popular way to make money as the app owner gets money for every time a user clicks on advertisements.
Referral Marketing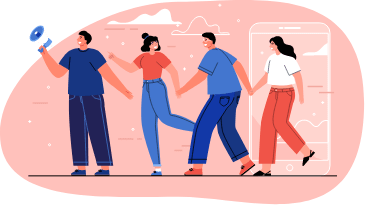 Referral marketing is also known as affiliate marketing or partnership marketing. When you promote another company's products or services within your application and receive commission is known as affiliate marketing.
New York Times's research has claimed that more than 65& of all new business comes from referrals, which means two-third of customers make purchases based on a recommendation they receive from friends or family. How much money do free apps make following this revenue model? How does it calculate? Let's take the most popular methods used in affiliate marketing:
CPM (Cost Per Impression): The advertiser is charged based on the ad displayed within the app.
CPC (Cost Per Click): In this method, the advertiser is charged based on the number of clicks.
CPV ( Cost Per View): If you are running video ads, this is for you. Based on the number of views you get, you need to make a payment.
CPS (Cost Per Sale): This is a very popular method as the app owner receives a fixed commission on each completed purchase. For instance, Amazon Associates does the same.
Crowdfunding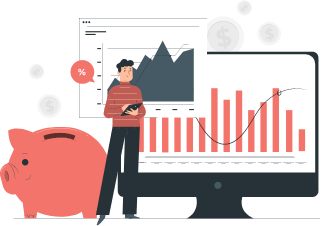 Today, this revenue model has gained huge popularity. If you have an out of box idea but lack finances and resources, you can opt for this model. Crowdfunding platforms like Kickstarter, Patreon, Fundable, etc., are popular and work efficiently. This strategy helps you raise the adequate funds you need for app development and marketing.
However, these funds can only compensate for your initial needs; later, you need to opt for another monetization strategy to grow further.
App Merchandise and eCommerce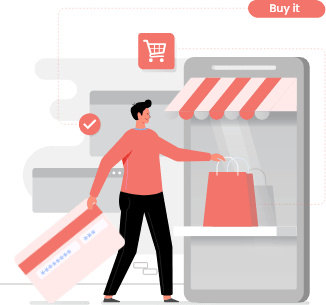 The eCommerce industry has been experiencing tremendous growth, and there is a golden opportunity to capitalize on that by selling goods. To monetize with this method, the app and brand should have enough customer base so that users will buy products from that.
Take an example of Angry Bird's gaming app. It is pretty popular and boasts a million users; now, it is selling Angry Birds t-shirts both in stores and online.
Which Strategy You Should Follow To Make Money From Apps
Above are the most popular app monetization strategies. Every method has its benefits and limitations, and there is no tried and tested formula. But yes, there are some steps you need to follow while before deciding on how to earn money from apps such as
Conduct market research
Understand your target audience
Assess your closet competition
Stay true to your app
You need to implement a method that improves user experience and helps you make a loyal customer base. App monetization models are flexible; you can make necessary changes with time. All you need to focus on is the user experience that encourages people to install your app rather than abandon it altogether.
How Much Does it Cost to Develop an App in 2021
Once you have got a million-dollar idea for an app, now it's time for execution. Entrepreneurs are generally worried about app development costs as they have a perception that it is a costlier and time-consuming process. But it is not true, so how much does app development cost? What factors affect the most?
To answer this question, you need to find a good and skilled mobile app development firm that understands your business requirements and helps you throughout. Following are the most important factors that affect the entire app development cost,
Platform
Features and functionalities
Business model
App design
Development company's location
If you are willing to build an app for your business, contact us, we will help you with a furnished quote for your application.
Some Last Words
There are a plethora of ways to generate income from free apps. Focus upon your plan of action and user experience. Moreover, the app development market keeps evolving with time, so explore different avenues that increase your chances of financial success. In a nutshell, if your app idea is good, you are bound to find a way to make income from it.

[/vc_column_text][/vc_column][/vc_row]