How to Patent an App Ideas – Bonus Tips to Stop Foul Play and Manipulation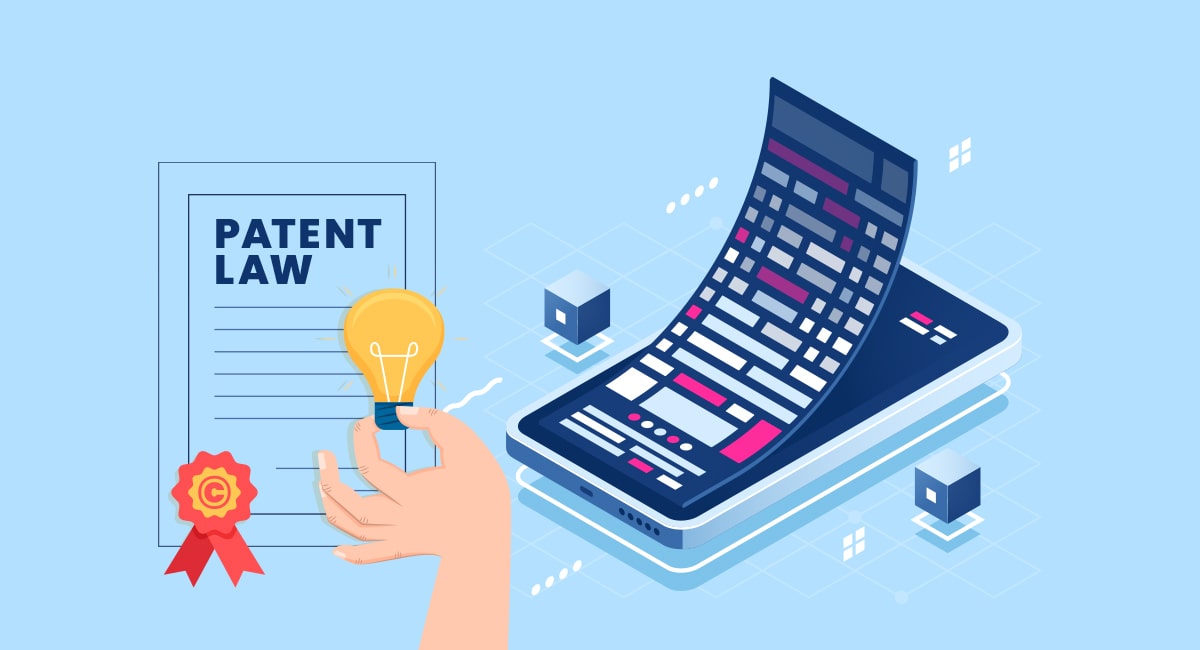 Amazon was once an idea, and today, you can imagine where it stands; Facebook also was an idea once to connect friends, and now it is one of the popular social media applications across the globe. We are giving you examples so that you will come to know how a unique idea helps you create a million-dollar empire. A unique mobile app idea can either make people's lives easy or contribute a huge share for the welfare of society. So, here we will discuss in-depth how to patent an app ideas and safeguard your app before someone steals. So, let's dive right in.
[toc]
As we all know, the mobile app market is flooded. Many applications are available in the market, but having a unique app with a unique idea is the beginning to achieve business success. Now think like an entrepreneur, would you like it if someone steals your unique app idea and executes it before you do? No fight? Obviously, no one likes it. That's where you need to patent your app idea that prevents foul play and manipulation.
Not only startups but well-established business owners are now taking a keen interest in patenting their app idea because there is a full chance that someone might steal the app idea. Indeed, patenting your app idea is a lengthy and time-consuming process, but it will surely offer you benefits and protect your app ideas from infringement.
Now certain questions arise in your mind, such as what is a mobile app idea patent? What are its types, why is it necessary, how much does it cost, and whatnot? Without any further ado, let's understand each of these questions in depth.
What is a Mobile App Ideas Patent?
Usually, the term "patent" is used in a legal sense, referring to the right that is given to an owner by the respected government authority. In the same way, if your app idea is unique, a particular government authority allows the app owner to exclude others from using their invention for a certain period of time.
If your app gets patented, you will receive legal protection that protects your process from being used by others, including rivals. An app patent is a legal property; you can sell, give them on the license to others, or can use it as a weapon for royalties.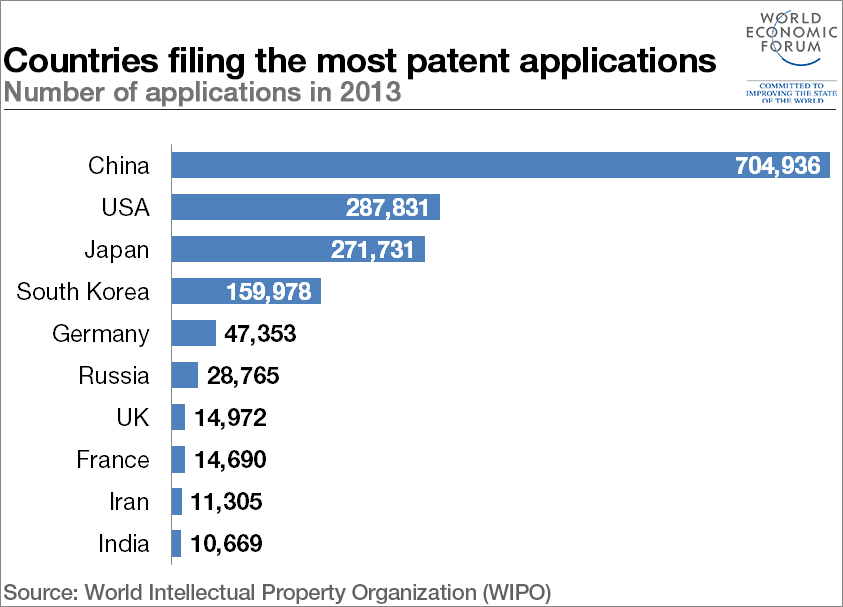 Source: (World Economic Forum)
In simple words, app idea patenting is nothing but a law which
Safeguard your app idea
Deeming you as an inventor of your app idea
And ensures that nobody steals your idea for their personal use
Once you patent your app idea, it ensures that nobody can steal your idea. For the United States, the USPTO means the United States Patent and Trademark Office has the right to issue the patent.
Now you know what app patenting is, let's jump to the next section and discuss types of mobile patent applications.
Types of Patent Applications
As mentioned earlier, the mobile app market has been exploding; just think of Snapchat and Instagram. Even marketers and researchers are saying that app development is in its "golden age" now, and this trend will not be fed soon.
The app market is huge, and by next year, it will surpass $407 billion. Therefore, it is significant to patent your app idea because someone else does. Patents are usually divided into two different applications such as:
Provisional application
Non-provisional application
Provisional Application
The provisional patent application is also known as a temporary application. This is the most popular approach mobile app owners use. A provisional application is a legal document that can be accessed by a patent application to secure an early app idea. Pros of the provisional patent application are:
Cost-effective
It secures filling-date
Provides you a long time to complete your app's technical process
Less formal and legal requirements
Non-provisional Application
Another type of app idea patent is a non-provisional application. This is the very first step towards a legally recognized patent. If you are done with app design and development, you can opt for this option.

Purpose of Patenting a Mobile App Idea
The unique app idea is everything, as it is the foundation of your business. And if your idea is being stolen by others, it would not only cost you more but ruin your business before you start it. However, it is not as simple as it looks; coming up with a unique app like Zomato or WhatsApp is tough.
When you browse App Store or Play Store, you will find lots of clone apps, enjoying the income of someone else's brainstorming and sweat. This is when app patenting comes to the rescue. If you currently have a great and unique app idea, you should be aware of fraud and malware activities.
Once you patent your app idea, it can benefit you in many ways. Below are the compelling reasons why you should patent the app idea:
If you have app patent rights, you can accuse all the original applications legally.
Having a patent, you will be able to get legal rights that you are the inventor of the app.
No third party can take advantage of your app idea and earn monetary benefits.
In a nutshell, your unique idea regarding an app needs protection in the context of safety and security. Further, with an official app patent, you can also claim compensation from any party which violates the existing patent laws.
A Stepwise Guide to Patent Your App Idea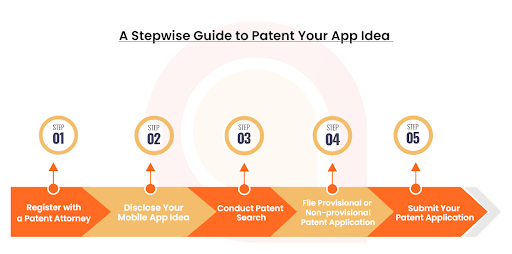 Patenting your app idea starts with finding a patent attorney or law firm that can help you to deal with legal formalities and meet the short and long-term goals for your mobile application and its expansion. Below given are the mandatory steps to follow while patenting your app idea:
Register with a Patent Attorney
You need to consult a skilled and experienced patent lawyer who is professional and familiar with the app patenting process. Some research also suggests that you can do it yourself but don't do this because app patenting is a lengthy and legal process; it would be great if an experienced lawyer does it.
Search for the best lawyer who can fulfill your requirements and does not cost you more. Once you patent your app idea, you can start the development process without any worry.
Disclose Your Mobile App Idea
Getting a new app idea means half the work is done, and the rest half is yet to finish. Once you find a skilled patent attorney, now it's time to disclose your app idea. You need to explain the entire app development process, including features and functionalities. You can also explain how your app is beneficial for people and industries.
In order to submit the tangible proof, you need to prepare app documentation that supports the development process, flow charts, prototypes, and much more. Here you also need to understand that the source code is not necessary to submit, but the thing that gets patented is the features and functionalities that your app will offer.
Conduct Patent Search
This is the most important step to follow. There are more than 2 million apps in Apple's App Store alone; now, it is evident that your app idea is not entirely novel. Hence, it is helpful to search for past inventions and patents to see if any app patent offers the same features and functionalities as your app does.
This will prevent patent violation and highlight what makes your app idea stand out from others. It will be those new features and elements that have not been offered by anyone else to date. Due to the increasing importance of patent searches, it is useful to understand how a proper patent search process should be conducted.
File Provisional or Non-provisional Patent Application
After searching and detailed documentation, now it's time to file an application for your app idea patent. We have already discussed the types of applications; you can either file a provisional application or a non-provisional patent application. A provisional application does not require any legal claim, and it is more cost-effective as compared to non-provisional.
If you want to hit the market in the early stage, you should opt for a non-provisional patent application as it takes less time to be granted by the government authorities.
Submit Your Patent Application
At last, this is the most important step of the entire process. After performing all of the above steps, you now need to submit the application to patent your app idea. Here's the list of essential documents that you need to prepare with your lawyer before you heading towards the final patent application submission:
Declaration
Entity status form
Data disclosure
Claims
Cover sheet
Fee sheet
What Amount Does it Cost to File for an App Patent?
Generally, the cost of patenting an app idea is based on the app that you are submitting for the patent. If you have opted for provisional patents, the cost starts from $2000 to $5000, while non-provisional patents cost you around $10,000. If you want to know details regarding app patent costing and fees, you should check USPTO once.
To get a costing overview, you also need to consider some mandatory charges such as patent examination fees, patent search fees, etc. Along with a patent, you can also have a trademark, but it will cost you more.
Optional Ways to Protect Your App Idea
Indeed, app patenting is crucial as it safeguards your unique app idea, but there are some optional ways of protecting app ideas, such as
Copyright
NDA (Non-Disclosure Agreement)
NCA (Non-Compete Agreement)
Trademark
Recordings
Last Words
App patenting includes lots of steps, processes, and formulas to follow. Well, here, we have only outlined crucial information. Patenting an app idea seems daunting, but it prevents your app idea from being copied or stolen. So, if your app idea is unique, it is the best option to patent an app idea; who knows, it can help you create the next Facebook or Amazon?