How to Sell on Etsy – Setup Step to Open Store As Beginners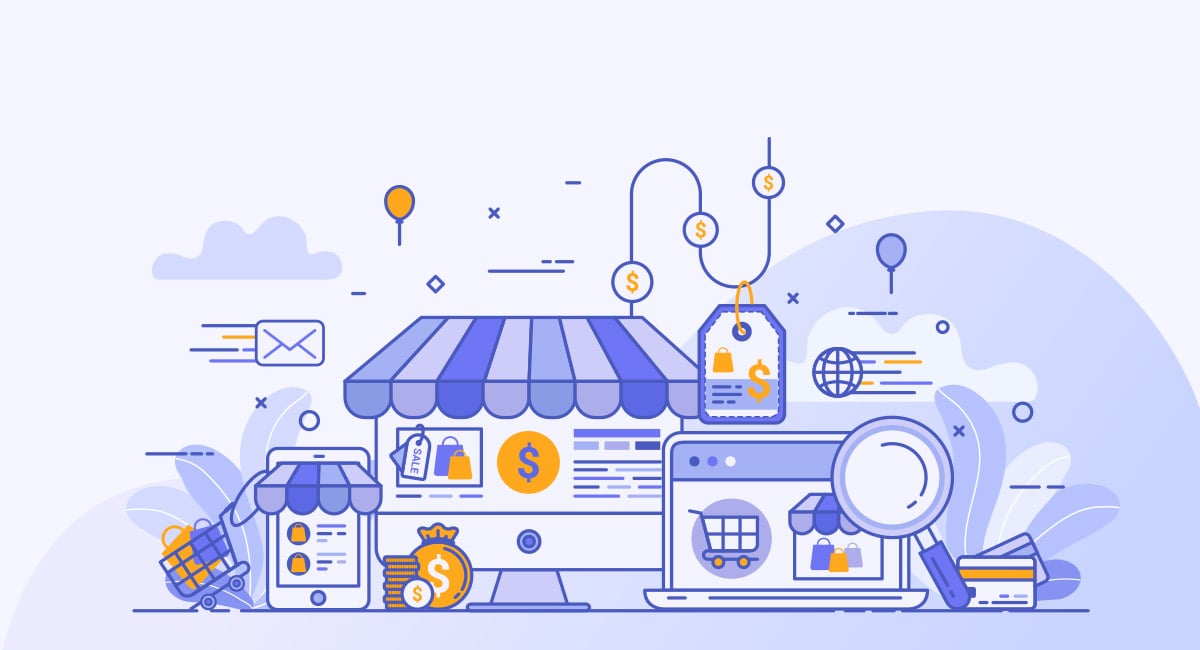 The eCommerce market is not booming but exploding; whether you consider Amazon, Flipkart, Walmart, or any other eCommerce giant, people's inclination towards online shopping increases. It won't be fed soon. In the same way, when we talk about art, crafts, and vintage items, Etsy takes a central place. Etsy is one of the best American eCommerce platforms where people can sell and buy unique items online. If you want to take advantage of this popular platform but are unaware of how to set up a store and sell on Etsy, by the end of this post, you will know the steps to get started with Etsy in 2021.
[toc]
Do you know what makes Etsy unique from other eCommerce marketplaces? Etsy specializes in offering only craft, jewelry, vintage, and custom-made products. Further, you can integrate your Etsy store with website platforms such as WooCommerce, Magento Ecommerce, and Shopify.
Now you must be wondering what Etsy is and what makes it so popular? Before jumping to the process of setting up a store on Etsy, let's understand what Etsy is.
What is Etsy? Check-out Company Details
Since its beginning in 2005, Etsy has marked itself as one of the best and largest online marketplaces where buyers can browse unique products such as craft supplies, antique products, gift ideas, etc.
Brand Name: Etsy
Founded in: June 2005
Headquarter: Brooklyn, New York
Founders: Robert Kalin
Website: http://etsy.com/
Based in New York, Etsy has expanded into one of the biggest online marketplaces worldwide, with 81.9 million active buyers and more than 4.1 million sellers. Moreover, over 50 million unique and special products are listed for sale that have grabbed users' attention.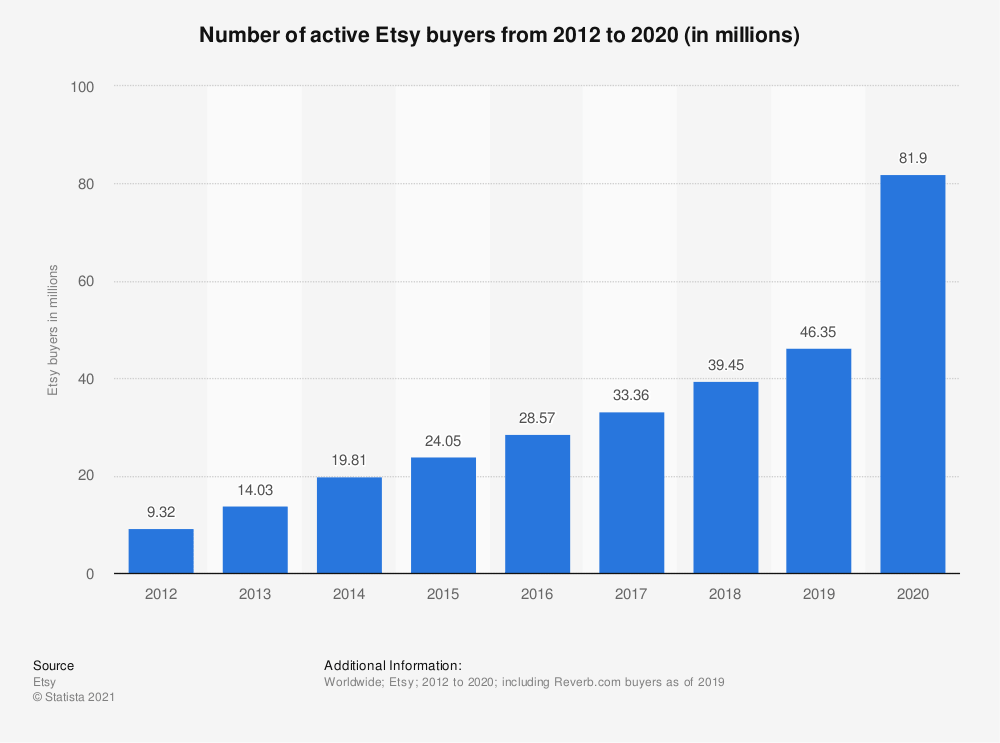 Source: (Statista )
The above graph from Statista clearly reflects how Etsy keeps growing and today boasts more than 45.7 million active users. Well, this figure is huge and indeed tempting small business owners to open their store on Etsy.
Whether you are a freelancer or want to be occupied full-time on Etsy, selling your products on Etsy surely amplifies your business's revenue and helps you gain a new audience on a daily basis. But before we get into the steps, you must know why to sell on Etsy? Is it the right platform for your products and online business?
Is Selling on Etsy Worth It in 2021?
Etsy is vast, and the majority of buyers and sellers belong from the USA. Now let's face it, selling everything on Etsy is not easy because it is not a platform like Amazon, eWorldTrade and eBay, where you can sell all kinds of consumer electronics, cosmetic items so easily.
It is the platform for art lovers and creatives to sell their best and unique handmade custom products online across the globe. So before you invest time and brainstorm the process of creating a store on Etsy, make sure your product is handmade, appealing, and matches the Etsy community.
More than 85% of products on Etsy are handmade and vintage items. When a seller wants to sell their products, they are asked to choose one category from three: handmade, vintage and supplies. Among these handmade products consumes the biggest share, below are the most popular handmade products,
Home and living
Art and accessories
Clothing
Bath and beauty
If your product ranges from the above category, you should not think twice to list out your products on Etsy as it offers some most common advantages such as:
Cost-effective
Etsy has a strong base audience
It's simple to manage
You can start small and grow big
Etsy's off-site ad makes promotion easy
Supportive community
Now you must be clear about why to sell on Etsy and what to sell on Etsy. Are you ready to sell on Etsy? Follow the below steps to get started.
How to Open an Etsy Store And Start Selling Product
Getting started with Etsy is easy; all you need to perform some basic steps, and you are done to succeed as an Etsy entrepreneur. So let's dive in.
1. Create a Seller Account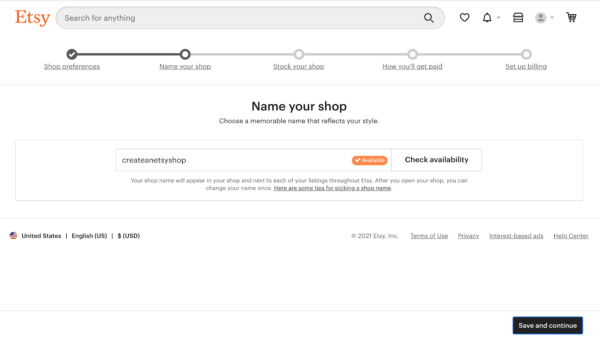 Source: (Etsy)
If you have used Etsy before, sign in to the existing account or else register a new account. To do that, visit Etsy. come, now scroll and click on "Sell on Etsy". Here you need to enter primary details such as company name, nationality, dialects, currency, etc. Once you fill up these details, you need to fulfill your profile by entering some elements such as
Banner
Company logo
Fill up about section
Product details
Also, include product exchange and return policies, pricing, and other essential details that buyers usually want to see before making a purchase.
Make sure your logo is unique, and your brand name is appealing after all these are the first things buyer notices while visiting your store.
2. Add Your Products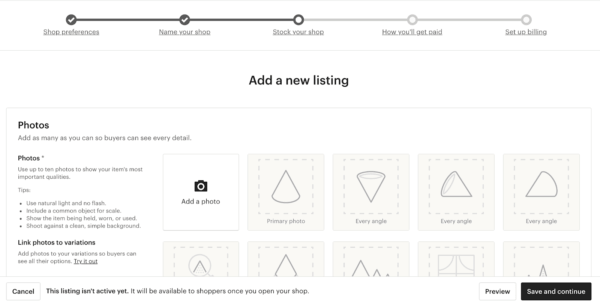 Source: (Etsy)
After filling up basic account details, now it's time to add your products to your Etsy profile. You can add all items one by one with pricing, updated return policy, and exchange details. But perform the below steps for your product listing.
Add high-quality pictures
Adjust thumbnails
Fill out other necessary product details
Enter minimum quantity and pricing
Set shipping charges
Review your product listing before publishing
To make product listing more detailed and alluring, you can add product descriptions with title tags; this will boost your product rankings and allow buyers to find products easily.
3. Choose Your Default Payment and Billing Preferences
Source: (Alura)
Once you add all your products with images, descriptions, and other necessary details, it's time to integrate payment and billing preferences. Once you start making sales, you will need to collect that money, and you also need to pay fees to the Etsy platform on each item's selling. There are multiple payment options on Etsy; you can choose which works best for you.
Whether you choose PayPal, Etsy Payments, or any other online electronic payment option, make sure it makes the entire transaction swift and secure. If you want to take advantage of Etsy gift cards, you need to choose Etsy payments.
4. Publish Your Store and Customize It
Almost you are done; once you integrate payment and billing information, you are all set to launch your Etsy store. Click on the "open your shop" link, and your Etsy store will be open. You will get the URL in two formats,
https://www.etsy.com/shop/yourbrandname.
https://yourbrandname.etsy.com.
Spread Words Everywhere and Promote Your Etsy Store
No matter how precious and unique items you sell on Etsy, your store won't get enough exposure without promotion and marketing. And today, you know how different internet marketing techniques have made it easy for entrepreneurs to spread words.
From email marketing to social media to paid advertising to publishing product videos on YouTube, you have plenty of options for promotions. Promotions and advertising help you increase order volume and drive maximum traffic to your store and app.
Leverage popular social media platforms and list out your products on Facebook Shops where buyers can directly browse your products and make purchases.
You Launched It!!
Selling on Etsy seems simple, and all credit goes to the platform's easy interface and dedicated community support. If you follow the steps mentioned above properly, you are all set to embark on a successful Etsy business.
With millions of interested buyers and the potential to share your own unique products across the globe, start selling on Etsy today. After all, your Etsy store is the first tiny seed of your eCommerce journey.