Instagram Marketing Ideas For Restaurant Business You Can Steal to Drive Sales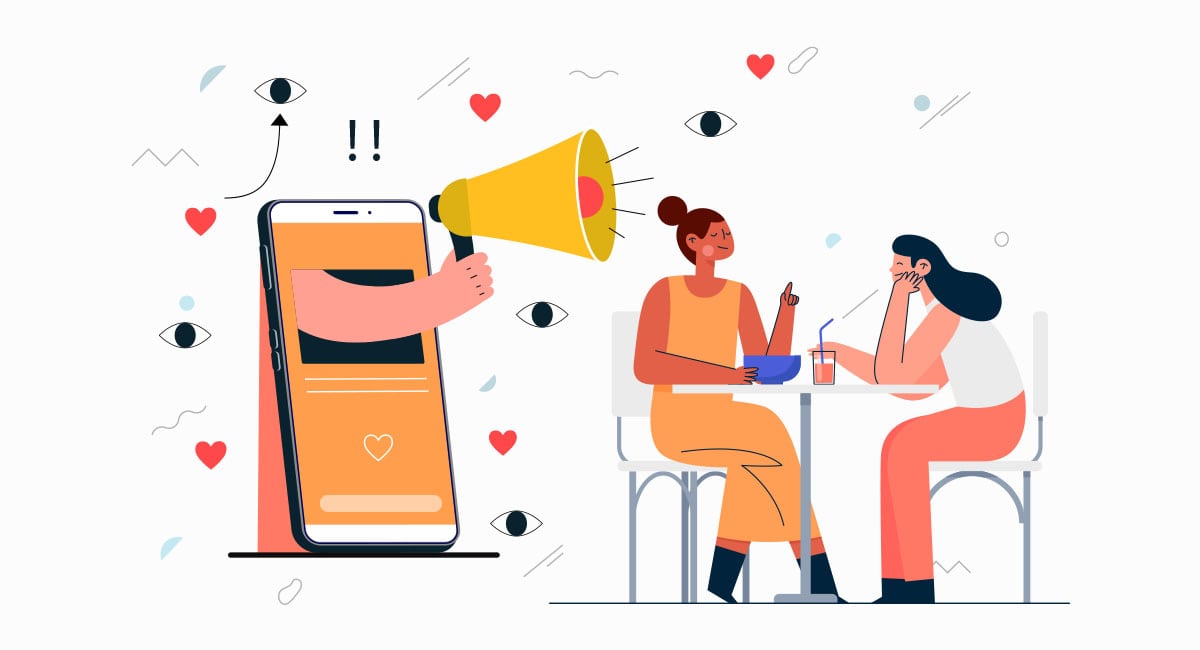 So have you ever thought about how you will expand your restaurant business and get new orders daily?
Living in the digital age, you simply cannot miss the chance to leverage instagram marketing for your restaurant business. More than 25 million companies globally are using Instagram for business, and more than 250 million users visit one business profile every day. Thus, you can not ignore Instagram when it comes to promoting your restaurant business globally.
As users of Instagram increase day by day and discover new products and services on this platform, it is critical for your restaurant to promote itself to get new customers on a daily basis. If your restaurant lacks a strong Instagram presence, you are losing lots of consumers and money on the table.
Earlier, Instagram was limited to personal use where people used to share their holiday pics with friends and relatives, but now many restaurateurs are using this platform to create a brand identity. It provides you with ample tools that can be used to attract and engage an audience. Hence, we can say that Instagram has become " the new norm for brands" where people are spending more time, and businesses can get desired outcomes.
Without further ado, let's examine how Instagram marketing benefits your restaurant business and drive more sales.
What is Instagram Marketing For Restaurant
This is the simple yet result-driven process of promoting your restaurant business on Instagram. Initially, it is free of cost unless you run paid advertising. This strategy can include posting high-quality content, images, videos, running an advertising campaign, and interacting with followers. Eventually, if it follows properly, restaurants will get better results and maximize their profitability.
How Your Restaurant Business Benefit From It
The main motto behind Instagram marketing is TRAFFIC.
If you are new to the restaurant business but lack an audience or eyeballs, no one would know about the dishes you are selling or services you are offering. Keeping in mind the current trend of online food ordering, you are also advised to create a delivery app that will surely give your restaurant the right kind of exposure.
Clocking in with over one billion monthly active users, Instagram is the perfect match for restaurant business owners for building a strong identity. Still not convinced? Have a look at the below image.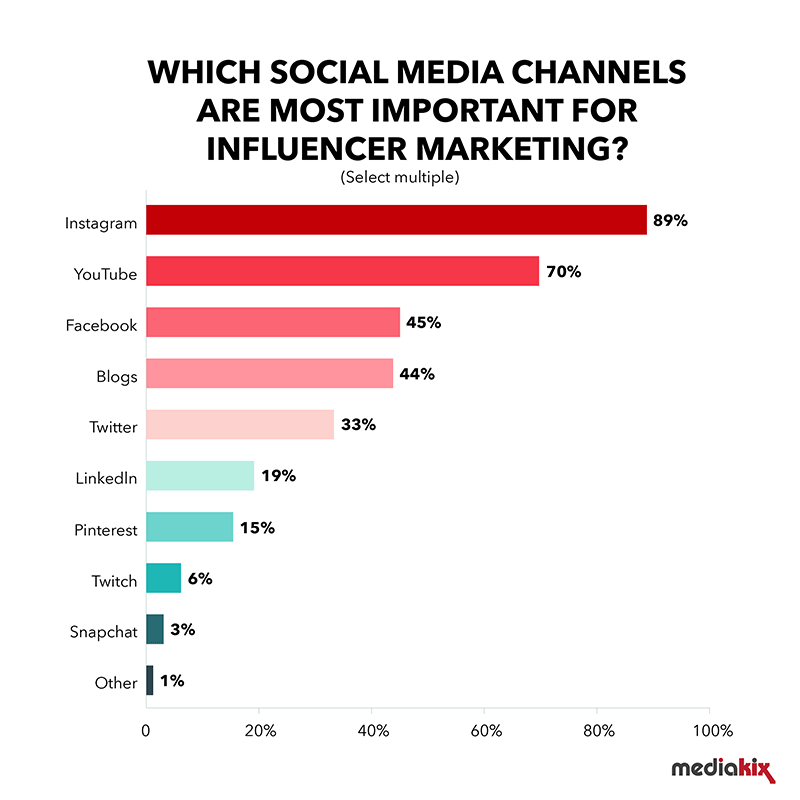 The above images show that, among all the social media channels, Instagram stands first with 89%, and YouTube is the second ideal choice for marketers. These numbers indicate that Instagram is a channel that is filled with full opportunities for restaurants and other brands. (source)
Let see some interesting Instagram statistics that will blow your mind and help you understand why your restaurant business should leverage Instagram marketing.
700 million monthly users
More than 400 million daily active users
Around 30 billion images shared
More than 65% of users are female
Around 60% of users admitted that they like to explore new products on Instagram
More than 20% of users visit a business profile daily.
More than 33% of marketers believe that Instagram ads are more effective
96% of US fashion brands have an Instagram profile
People spend the same amount of time on Instagram as they do on Facebook ( as per Recode's analysis)
Well, the figures mentioned above give a clear idea of how Instagram drives more sales and traffic to your restaurant business. Instagram is slowly turning into a marketing platform for brand building. However, with more than 8 million registered business accounts, Instagram is competitive and crowded. To get the desired outcomes in such a competitive market, you must be aware of certain strategies to create a milestone.
Tips To Successfully Promote Your Restaurant on Instagram
If you are an Instagram user, you must have heard the name Taco Bell. Taco Bell has 1.4 million followers on Instagram and has an impressively high conversion rate and the potential to connect with a larger audience base.
Lesson: Taco Bell keeps posting funny and eye-catching effective content strategy that keeps their fans engaged and connected.
Well, this was an example of how food businesses leverage Instagram and promote their products to a more targeted audience without spending hefty money on paid advertising.
To strengthen your restaurant's profile, you need to craft an effective Instagram marketing strategy to gain more conversion of your posts in order to make a popular brand. Here we are going to share quick Instagram marketing ideas that offer your restaurant steady growth and drive more sales. Let's get started.

# Optimize Your Account
This is the first and most important step to follow. If you are creating a business account for your restaurant, your account should have a compelling bio, attractive profile picture, website and application links that redirect users to the homepage. As these are the very first things, people observe so make sure you have added accurate info.
You can also include the link to a landing page that will help increase the engagement ratio and attract more users. You can also use trending hashtags, special characters to your restaurant's bio; it will make your profile more clickable.
Moreover, it would help if you had an attractive profile picture that describes your restaurant's reputation and evokes emotion. Having the right display picture gives a clearer idea of who you are.
# Find Relevant Hashtags
Hashtags are an integral part of your Instagram post.Trending hashtags will help people to find things they are interested in. This means your posts will gain more visitors if you use trending hashtags. Well, hashtags keep evolving with time, you need to monitor them and change based on the popularity.
Here is a list of popular hashtags you can use to promote your restaurant to gain more conversion,
#foodporn
#food
#foodie
#instafood
#foodlover
#hungry
Or any other popular dishes you offer. Please don't make the mistake to use random hashtags; it will not reap benefits. Make sure you use trending hashtags that will increase brand visibility and ultimately increase the restaurant's profile visibility.
# Use Well-thought CTAs
This is another crucial thing to consider while posting content on Instagram. You should use clear CTAs to convey your message clearly to the right audience. You can use an attractive image or icon that transmits the message clearly and always visible on top of the post.
For instance, if your restaurant offers Happy Hours, by using attention-grabbing CTA such as " few hours left" in order to make followers order meals right away. Adding urgency to your CTAs attracts consumers; eventually, it boosts sales.
# Collaborating with Food Bloggers
Collaborating with popular food bloggers or Influencers is another attractive technique to promote your restaurant business. By doing this, you can get a better conversion rate at a low-cost. It will also help you to reach the target audience cost-effectively.
Make sure you have chosen influencers whose values and interests are similar to yours and have a good connection with their followers. Moreover, if budget is not constrained, you can contact celebrities for better conversion.
You can also use another technique that is "shoutouts". An unpaid shoutout is when you collaborate with another brand that has the same number of followers, and you are agreed to promote each other's brand in order to increase exposure.
# Build Strong Relations with Followers
For business owners who want to engage with maximum followers, it is important to build a strong and active Instagram community. With the help of direct messaging, you can establish personal relations with followers. It means if a user posts a comment or mentions you, thank them and respond to them. You can also comment on their post. Ask questions or offer advice to your followers. It will feel them valued and add a personal touch.
# Make More Videos
People love watching short videos. Here you can post the recipe videos that inspire users to cook the same. Take your time to make more videos and boomerangs to attract users. It also provides entertainment to your followers and keeps them engaged with your brand.
Posting a video on Instagram is easier as you can edit it also within the app.
# Make Your Instagram More Human
As we have said earlier, the main aim is to generate traffic but don't forget to make it more real. For instance, you can post reviews from previous consumers, post popular dish images that your users loved to try. To make your Instagram more human, publish real people doing things that have a connection with your brand or products in some way.
These techniques will make your Instagram more real and help your restaurant to reach another level.
How Effective Instagram Marketing Give your Restaurant Business Creative Path
So here, we have discussed several innovative ways of using Instagram for your restaurant business. However, Instagram is not just limited to these few principles, it keeps evolving, and one of the best marketing tools that provide opportunities to promote your products and services.
If you are occupied with the restaurant business but not leveraging Instagram marketing tactics, you are missing a major chunk of potential consumers. These Instagram marketing techniques will help you build a strong social presence along with a solid customer base. So give them a try today.