A Complete Logo Design Guide For Newbies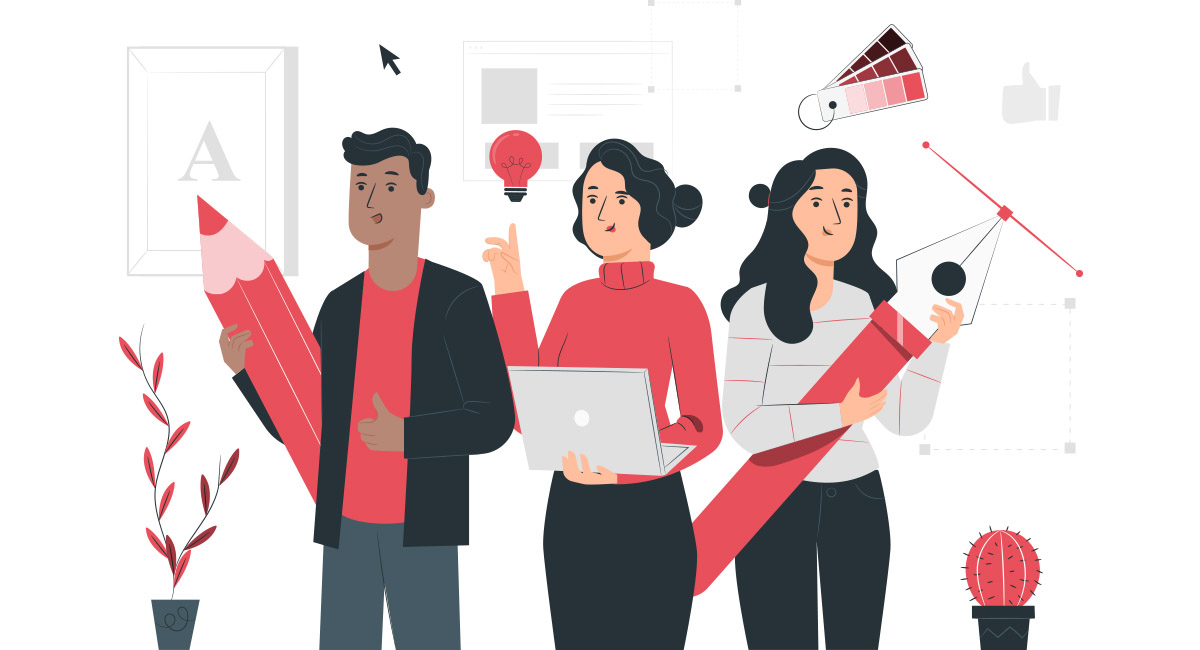 Did you know that a logo's colors and shapes influence almost 92% of people to build their brand perception?
Well, that's how important a logo is for any company! It defines a company and serves as its identity. So, for example, whenever you pass by a yellow "M" on a red background, you instantly know it is McDonald's. You don't even need to see the full name. The power of a logo creates massive brand recognition, and people get to remember your brand's name. In this article explore how to design logo and complete guide for logo design as newbies
Moreover, logos help people in building emotional associations with the brand. Unattractive logos won't let your brand win people's hearts. That's why most companies even pay $1000 or more for simply designing a brand logo. You must have seen how the Instagram logo has been changing over the years and its impact. It's only getting simpler every time, but the money being invested is only increasing.
[toc]
Therefore, it is essential to invest in a fantastic logo design that can impeccably enhance customer experiences with your business. However, if you've just begun your small start-up, and cannot spend a hefty amount or want to pursue a career in logo designing? Don't worry, because this guide will help you design a logo with only a little bit of practice even if you're a newbie.
Follow these steps and tips below to get started.
Logo Design Guide – How To Go About?
1. Know The Brand
The first step to designing a logo is to know your brand inside out. You cannot simply jump to Adobe and start drawing shapes. Instead, you need to dig deep into your business goals and history. You also must know how your business is different from other competitors in the market. Only then you'll be able to design a perfect logo that helps build your brand's reputation.
Moreover, you'll also have to think about who your customers are. That's because your logo would need to be designed in a way to target them and connect to them. For example, a black and white logo with Times New Roman, Calibri, or Arial font won't work for a brand targeting kids. So your fonts, shapes, symbols, colors, etc., need to be aligned with all these factors. The key to designing a logo for kids is colorful images that speak louder than words and brighter colors that catch the eye.
2. Structure Out Everythin
The second step in making a logo is to plan out everything before getting started. You might think that it's only about using design software, but it's much more than that. Since your logo would serve as your identity, it must be perfectly relevant to your business and simultaneously attractive for your audience.
Therefore, you'll need to structure out your work. Once you get to know your own company, you'll need to research your entire industry. You'll have to see what your competitors' logos have in common and how they stand unique.
Furthermore, you will also have to decide whether you'll make an iconic type logo (one that's drawn around an icon) or a logotype logo (that involves typography). Once you do these things, move on to the next step.
3. Figure Out The Theme
Now, after extensive research, you need to think about a theme. Your theme must represent your brand and speak for your business. For example, if you are selling a meditation application, you cannot use a black or dull theme. Instead, you'll have to keep the theme calming, and you can select the color blue for that.
Moreover, if you're making a logo on an online application or website, choosing a theme becomes even more essential. Your logo theme must be aligned with the theme of your brand. The colors, shapes, and designs should be selected mindfully.
4. Make A Sketch Or A Draf
Another essential step before designing your logo formally is to make a rough sketch or several drafts for an idea. It's just like you used to write a rough draft in school before writing the actual essay. You can create as many logos as you can think of on paper and then take feedback from your friends or your partners. It would help you finalize the best logo, which you'll then make in real on an app.
5. Choose The Right Software
You probably would have used or at least heard about Adobe illustrator for logo designing. However, there is much more software that you can opt for. Some of them include brandcrowd's logo maker, Logaster, Looka, etc. Just choose what fits your budget and offers more user-friendliness and better tools.
Some Hacks And Tips of Logo Designing
Above was a step-by-step logo design guide on how to get the process of logo designing started. Now, look at these hacks and tips below for helping you out in the entire process.
1. Pictures Speak Louder Than Words
Just like actions, pictures also speak louder than words when it comes to logos. Since a logo is about illustrating who you are and what you do, you don't need to write descriptions or use words to describe that. However, the image should speak for itself!
For example, if you run a tour agency, you can show a plane or a train with minimal text like your company name in your logo instead of writing about your company or work.
2. Keep It Spacious
You don't need to clutter your logo with a bunch of symbols, shapes, or text. Instead, opting for a simple and easily recognizable logo is the key. Using space is a better way to make it easier for your audience. They would be able to read or recognize it even from a distance.
Moreover, logos with blank space are also easier to incorporate into or printed onto t-shirts, brochures, mugs, and other items.
3. Put Some Text In The Shapes
Another great option to design a logo is to place your icon or text inside a shape. For example, placing a laptop inside a circle would formally portray a software company. You can even use shapes with gradients or textures for a better look.
Moreover, it would help if you kept in mind that the shapes used in your logo affect people's perceptions of your brand. In a study, 109 college students were divided into three groups. One was shown a running shoe logo in a circular shape, and another was offered the same in an angular shape. The third was shown no logo. The first group rated that shoe company as more comfortable, while the second group rated it more durable. That's how shapes play with our minds and form our opinions.
4. Imagine Your Logo Everywhere
When you're designing a logo, you have to think about where you will use it. For example, you must know whether you'll use it just on your website and your social media pages or your merchandise items and letterheads too. This would help you design a logo accordingly. Also, there are websites where you can check how your logo would look on a particular item.
5. Play With Colors
Did you know that using the correct colors can increase the readership by 40%? Yes, that's true.
The first thing that pulls people towards a brand is its colors. Thus, it would help if you chose the perfect combination and contrast for your brand logo to make it eye-catching. Also, your logo's readability depends on the use of colors.
For example, if your colors are too bright for the eye, people would not be able to read your logo. So instead, they should be calming and appealing for the eyes.
Also, the colors of your logo should match your brand's purpose and target audience. For example, a dull-colored logo won't look good in a kid's toy store. Also, colors play with human psychology. For instance, red sparks hunger, so McDonald's has used it quite well to make its customers buy its food.
There are a lot of ways to use colors in your logo. You can either go monochrome (with black and white or by picking different shades of the same color). You can also choose two colors from opposite ends of a color wheel (e.g., red and green, or blue and orange) to give a vibrant look to your logo.
Furthermore, you can also use two colors beside each other on a color wheel for a natural look, e.g., red and yellow. But, of course, whatever color you choose depends on what your brand wants to portray and which combination works well for you.
6. Being Literal Is Fun
Sometimes you can market your brand with a logo that portrays a literal image of what your name is. For example, Apple uses an apple as its logo though they sell digital devices, not fruits. If your company's name is, e.g., electricity box, there's no harm in showing an electric spark symbol inside a box. In fact, it would be easier for your audience to remember your brand name.
7. Show Your Authority
Building authority with your logo is vital for you to gain people's trust. If your logo doesn't portray what you actually are, it will take your brand down instead. Suppose that you're running an NGO for differently-abled people. In such a case, portraying a cartoon of a disabled person wouldn't look good to people. It would instead be disrespectful for some. However, a formal logo here showing your company's name in Times New Roman font might stand a greater chance.
Contrary to that, if you're running a toy, ice cream, or any other shop that doesn't require seriousness, you can get as creative as you want with the right colors and funky fonts.
8. Pop A Color
Have you seen Amazon's logo? The company has used a logo that says Amazon in black color, but they've placed a bright colored arrow beneath it. This effect of popping color on an otherwise flat-feeling icon is a good trick. Many brands use it for visual salience. You can either make a single letter in your brand's name a different color or put a vibrant icon anywhere with your black fonts.
9. Make It Memorable
That's a scientific fact that people cannot remember everything they see. Human memory is limited. That's why your logo must be easy to memorize. For example, when you see a black swoosh, you instantly recognize Nike. Similar is the case with McDonald's and Apple. Thus, think about how you'll make your logo memorable for the audience.
10. See It Colorless
While colors have a significant impact on your logo's recognition, there will be times when you have to print your logo black and white. For example, you cannot publish an ad in the newspaper in color when you give an ad in the newspaper. Thus, make sure to check your logo in a black and white theme too. This will ensure it remains visible and looks fantastic even then.
11. Adjust The Size
A brand uses its logo everywhere. Sometimes it's reduced to the smallest size to fit on a pen or enlarged to the maximum for a huge panel. Thus, your logo must look right in every size. It should hold its proportion when the size is maximized, and it should be readable and clear even when it's reduced to the smallest. You can check your logo in different size variations to make this sure.
Moreover, it's always better to use grids when designing a logo. You should make sure that the alignment of all elements of your logo (letters, shapes, etc.) is in proportion. Then only your logo would adjust to different sizes perfectly.
12. Don't Use Photos
Never use stock photos in your logos. These photos would pixelate when you change the size of your logo. Thus, it's better to avoid them.
13. Simplicity Is The Key
Logos should be as simple as possible. That's because they should convey a message in a single glance. Most famous brands have kept a simplified logo, like an apple, a swoosh, or an M. The audience doesn't have to pressure their minds to understand what's being shown.
The Final Takeaway On How To Design Logo
A logo serves as the identity of a company. Therefore, it plays a significant role in brand recognition and perception. Thus, before designing your logo, make sure to think wisely and research extensively.
Moreover, when designing a logo, use the right colors, fonts, and shapes, and make it simple, unique, yet memorable. Also, take care of the size adjustments. Following these essential tips would help you design the perfect logo that conveys your brand's message in a go.