5 Best Online Course Platform With Ratings That Empower Your Knowledge
Heading towards digitization, we are relying more and more on technology and the Internet. From online shopping to traveling to even learning, modern tech solutions have left no stone untouched when it comes to transformation. Earlier, the education sector was vague as teachers and students were used to following the traditional education system but innovative technologies and online course platforms have changed their roots. So, let's walk through the five best online course platforms with its review, ratings and how does it help anyone to groom themselves with as many skills and certifications as possible. here in this blog how to create an online course the ultimate guide by systeme.io
[toc]
Traditional school classes have been replaced by virtual online classes, and credit goes to the pandemic that has added extra fuel to make this concept more accessible to everyone. Today, more students and even professionals preferring online learning to physical institutions because it offers full convenience and wide accessibility.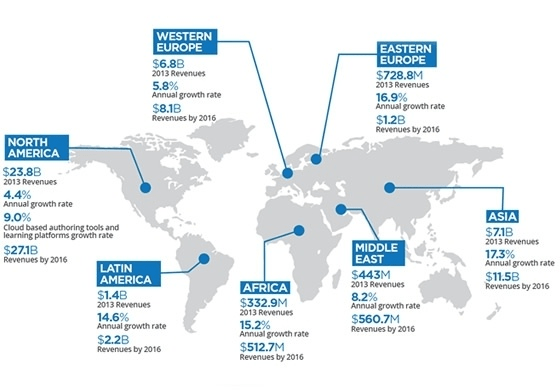 Source: eLearning Industry
Moreover, some of these online courses are free and provides certifications tool, so why should anyone attend regular college and pay hefty fees? These are the primary reasons, online course industry is booming and will soon reach $325 billion by 2025.
Digital learning is more flexible and one can be educated without any geolocation barrier. This kind of flexibility makes education more accessible to people that might unable to pay a large amount of fees or who lack time due to professional commitments. Well, there are a plethora of online course platforms available on the Internet, which one you should choose?
In this blog, we will review the popular and best five online course platforms that offer an extensive range of courses presented by top-rated universities at pocket-friendly prices.
Free + Paid Best Online Courses Platforms of 2021 for Job Growth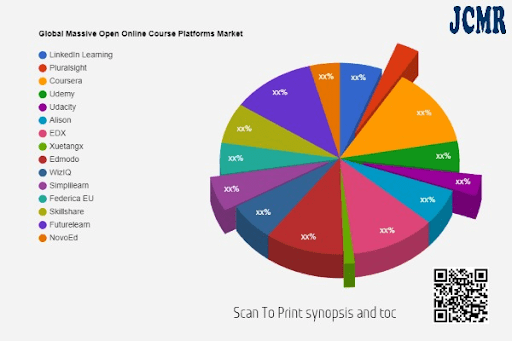 Source: JC Market Research
Education has not been left behind with all of the fields that have been improved online. The growth of the digital learning market keeps increasing as student's inclination towards online learning increases due to the flexibility it offers.
In addition to that, you also don't need to pay a huge amount of fees to access a particular course. At a nominal charge, you can educate yourself and earn a degree that eventually helps you excel in your career. A good online learning platform offers all of the courses designed by experienced mentors.
So what are you waiting for? Explore the best online course platforms available with their prices, ratings, and much more.
Rating: 4.4
The LinkedIn Learning platform, previously known as Lynda.com, offers professional courses within a variety of business, technology, and creative disciplines. Unlike other similar platforms, LinkedIn Learning comes as a premium service and contains more than 16,000 courses available in seven languages.
Pros:
It's highly cost-effective and valued in the professional industry
It offers a one-month free trial
Users can also get certification once the course get complete
It has offline learning access to learn wherever you are
Pricings:
Once the free trial period gets expired, users need to choose from two subscription models:
Monthly: €29.49 (excluding taxes)
Annually: €299,88(excluding taxes)
Users can opt for any subscription model based on their requirements.
Udemy
Rating: 4.5
Udemy is an online learning platform that offers great tools to help people create and sell online courses. On this training platform, one needs to become a premium instructor in order to sell courses. A wide range of courses from web development to public speaking is offered by its instructors. Currently, it has a faculty of around 35,000. Many reputable companies use the business model of Udemy, including Booking.com, Lyft, Addidas, and General Mills.
Pros:
Wide range of topics and courses
Affordable courses
30-day refund policy
Certificate at completion
Lifetime access
Pricings:
Free trials are available on Udemy and courses start at $12.99. Prices will vary depending on the course. Starting from $360 per user per year, business plans are available.
Coursera
Ratings: 4.8
Coursera is another popular online course platform that allows students to access online courses at much lower prices than attending in person. The subjects range widely, including arts and humanities, maths, logic, computer science, languages, and more. More than 4000 courses are listed on this platform, from over 200 companies and universities including Google, Yale, and the University of Pennsylvania.
Pros:
It offers multiple learning options and activities
It also awards students with various certifications and points
Students can access plenty of courses offered by prestigious instructors
Pricings:
Coursera offers free courses but paid plan starts from $39 per course.
Skillshare
Ratings: 4.3
Skillshare is another popular online course marketplace with more than 4 million students and up to 24,000 lessons in various disciplines. Skillshare encourages students to use project-based learning to hone their creativity and apply new skills in the real world. There are two parts to every course: a video presentation (which usually lasts 15-20 minutes) and a class project.
Pros:
Skillshare online course platform offers a forum feature where students can exchange feedback and improve their learning
You can leverage many courses at the same price
Pricings:
After a 14-day trial, students need to pay $15 per month to access all the available courses.
Udacity
Ratings: 4.3
Udacity's online course platform is best known for its Nanodegree programs. A Nanodegree is a project- and skill-based program. A Nanodegree consists of the completion of a series of courses in Artificial Intelligence, Coding, Robotics, Mobile Engineering, Business, and Data Science. A typical program will take between 3-6 months to complete. Every student enrolled in a Nanodegree receives one-on-one technical mentorship.
Pros:
Best platform for programmers
Great partnership with some tech giant companies
Help students to solve real-world problems
Pricings:
Up to 200 courses are available for free on the platform. Courses for Nanodegrees begin at $200/month and can go up to $2400/month.
Wrapping Up
Learning new things takes time but online course platforms have made it easy and accessible in a certain way. From online movie streaming to attending virtual classes, the pandemic has been acted as a catalyst for many sectors and education is something you can't overlook.
Today, students can access various learning skills beyond classroom teaching. If you are one of those learning aspirants who want to brush up on skills that help them to stand tall in this competitive job market, probably getting started with the online courses platforms is the answer. Choose the best based on your requirement and purpose.