Scrutinize 5 Prominent Picture Translator Apps To Try Once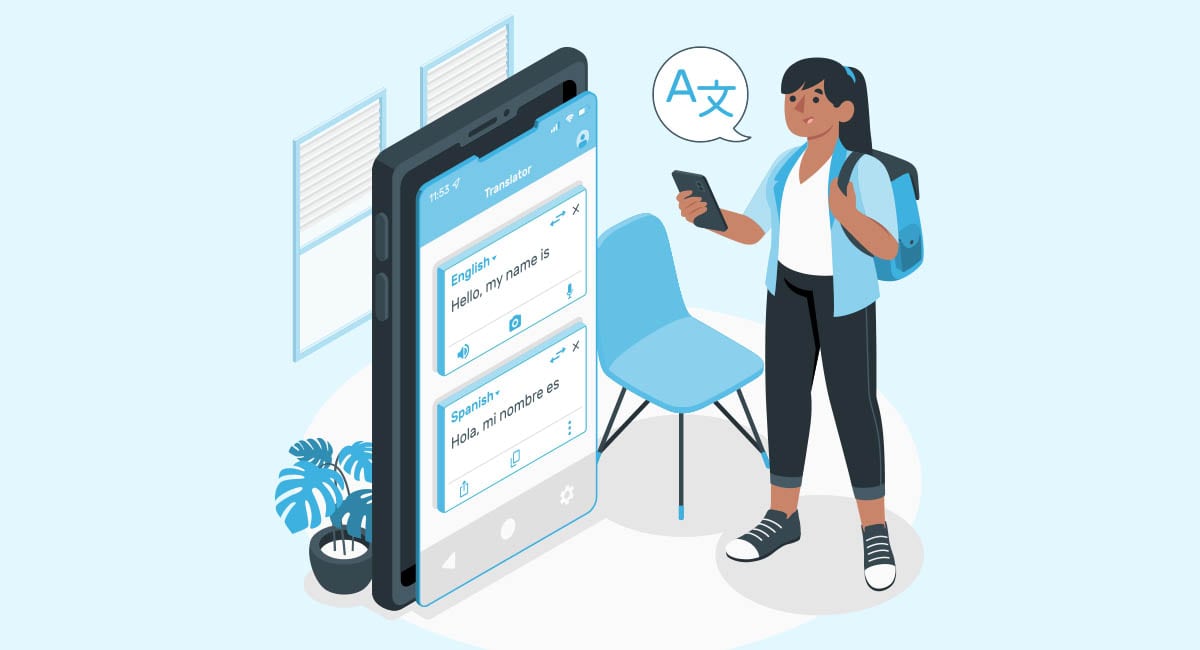 Travelling has become so popular nowadays. People are considering traveling as an earning medium. However, traveling to different states and countries has one of the most common issues of communication. Most of the travelers aren't multilingual. But this isn't going to be a barrier anymore, as many picture translator apps are available. These apps convert the text written on the image into a language that a reader understands.
[toc]
Moreover, the travel industry was harshly affected in 2020. Worldwide, the travel spendings on tourism dropped by 61% in 2020, falling to 504 billion US dollars, compared to 2019 spendings figured 1.29 trillion US dollars. Nevertheless, the expectations in 2021 and the following years are higher. The tourism industry is rebounding, contemplates rising through health protocols, and travel restrictions are still the biggest hurdle.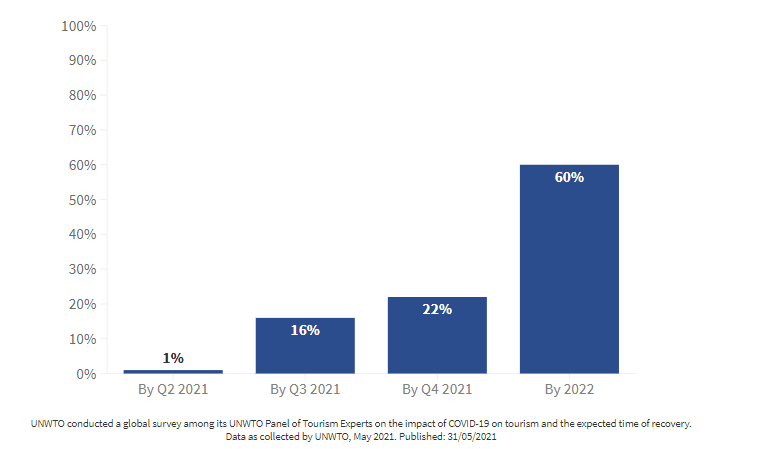 Image: (Source)
Further, technology has advanced such that it restricts all the barriers to connect worldwide in any corner. While communicating throughout the world, one might come across any unknown medium to exchange ideas, offer deals, and much that bothers business and. You perhaps need to read long paragraphs of emails or any formal documentation or messages in any language in that situation.
It is a hassle to transform an unknown language to your native lingo while typing every letter in search engines. But what if you can scan an image in-camera or text and get the whole paragraph converted to your known language. Translating pictures or messages to your required form is now possible with a picture translator app on your smartphone.
These apps instantly assist you by clicking a picture of any unknown text in the app, and the app does the rest. It can convert any form of text or image to the language that you pick. These picture translator apps consist of multiple languages chosen to render from and translate too. Now, let us look into how these apps work to translate the picture into your known language.
What Picture Translator App Does?
Transformation applications allow you to take a picture or choose the images from the phone and convert the image. Picture translator app transcribes the picture in any language. It scans the image's writing language and then converts that into any of the desired languages. The app database comprises numerous languages to convert it in. Plus, these apps provide many options to change to unknown forms.
Translator apps are handily synced with mobile phones used anywhere. These applications can transcribe any alien symbols, news, directions, address, and many more translated to a native language. A picture translation app allows its users to take a picture of the text unknown to them. And then, the app will transcribe that text. Also, one can select the image from the phone for translation.
Many different kinds of apps are present, which work for the same purpose, offering unique features. We will be looking for top picture translator mediums that are used anytime.
5 Best Picture Translator Apps For Android and iOS Mobile Phones
1. Papago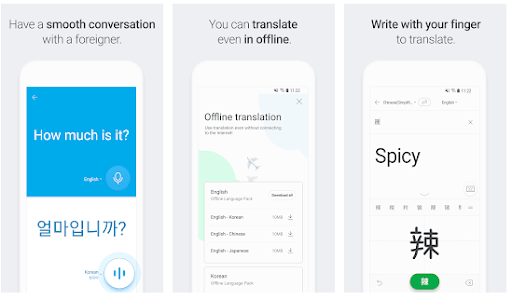 Image: (Source)
One of the comprehensive applications for Asian lingo is Papago, which is interpreted between English and other Asian languages. It includes Korean, Japanese, Chinese, Russian, Italian, and more Asian people. Conversions are in the form of sounds or typed forms and a message exchanging inside the app.
It renders the conversion inside the app in their native lingo while exchanging the sentences in the application. The app provides multi-features for the input of unknown source forms like an image captured or selected from the phone or typed message. It has integrated vocabulary inside the app as well.
Cost: No Cost
Support: Available in Google Play Store and iTunes
Languages: Supports 13 Asian languages
2. Waygo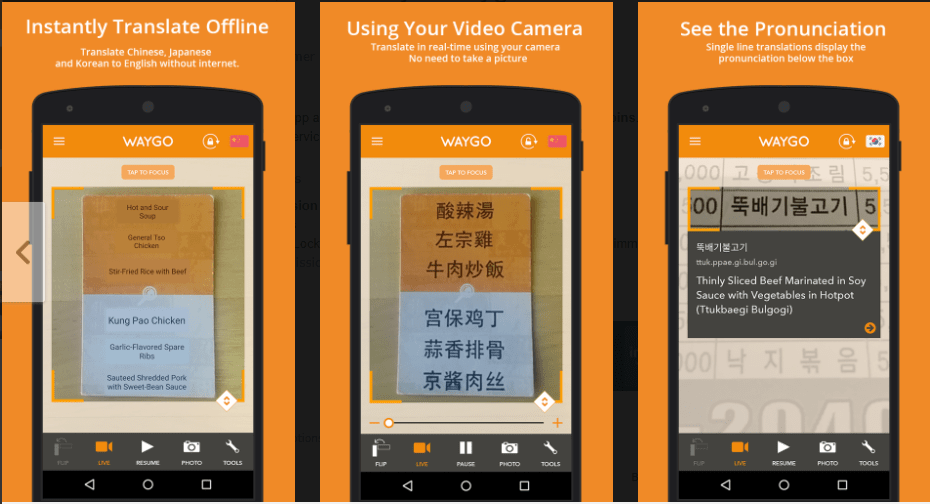 Image: (Source)
At a time of no connection in a foreign place, Waygo is lenient amongst picture translator apps. It helps in converting for you in no network areas. The app is merged with the vocabulary and a lingual converting source. The in-app camera can rewrite selected forms or can get us the text's meaning in simplified language. It converts Japanese, Chinese, and Korean languages into English and vice versa.
Waygo application has language restrictions to these languages only, also constricted to just ten conversions. However, it has in-app purchasing plans allowing extended language mutation. For one language picture conversion feature, it has a paid plan of $6.99, and for all languages, it is $11.99. Users can also go through accents from the app.
Cost: Free installations and paid support for extended use.
Support: Available in Apple store
Languages: Korean, Chinese, Japanese
3. iTranslate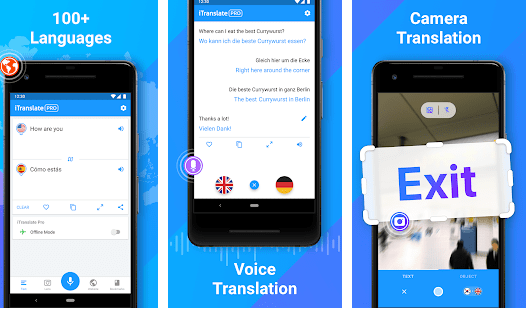 Image: (Source)
A well-known transforming language is an iTranslate app, allowing around 100 languages in the app to convert. It has a feature called iTranslate Lens that converts an image into the chosen language. The application has an inbuilt vocabulary that gives similar and simpler meaning to the text. The vocab is also available in no internet mode.
It has a paid subscription that provides extended facilities to the users. The users get the offline transformation, audio-to-audio chatting, and verb conjugations in different tenses are provided with.
Costs: Has free and paid plans
Support: Available in Google Play Store, Apple Store, and a Web App launch
Languages: 100+ languages
4. Microsoft Translator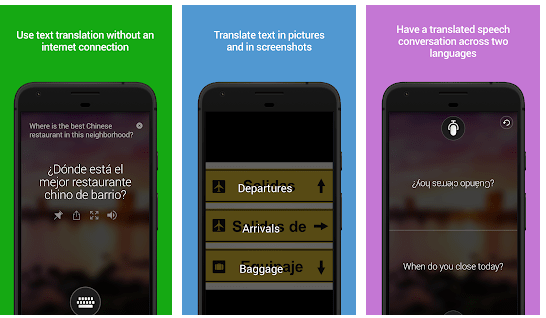 Image: (Source)
Microsoft offers a picture translator app, the Microsoft Translator, for its users to transcribe anything unknown. It comes in the list of the proficient translation applications for its service to convert an image to the preferred forms of language. Further, the app even helps users to share the translated documents to share it on other platforms. Users can find the simple similar forms for hard-to-read sentences and words inside the applications only.
The application facilitates the learners to communicate in two different languages, in which the application transcribes the language into one's convenient form. The app is congruous with Android and iOs transcribe, in addition to the intelligent android wristbands. The overall application experience to the users is interactive, making it effortless to use the app.
Cost: Cost-Free
Support: Compatible in Google Play Store and iTunes
Languages: 60+ languages
5. Google Translator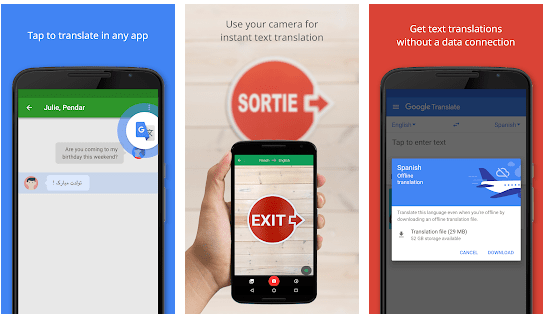 Image: (Source)
Counted as one of the ranking picture translator apps, Google Translator works as quickly as in the blink of an eye. In the app, one can take a picture of the text and then select the exact portion of the text to be translated to the required lingo. The application has multiple options to translate from, like image, typed text, voice search, copied and paste text, and many more.
This app translates into text forms, which can be used further for any purpose. Even the app can convert in no-internet mode on downloading a specific language package. Moreover, the application renders a real-time conversion of the image. It is compatible with the app and website on Android and iOS screens.
Cost: Cost-Free
Support: Available in Google Play Store and iTunes
Languages: 100+languages in-app, 38 for camera work
Ending Thoughts
The translator app helps a traveler not rely on anyone for communicating. These are the friends in need of the users in an all-new and unexplored place. The apps mentioned above are proficient for the work they are developed and mentioned for. These applications come after filtering out thousands of apps. Exploring the world has no communication problem in the presence of these brilliant picture translator apps.