Understanding Mobile Commerce: Tips, Trends, and Examples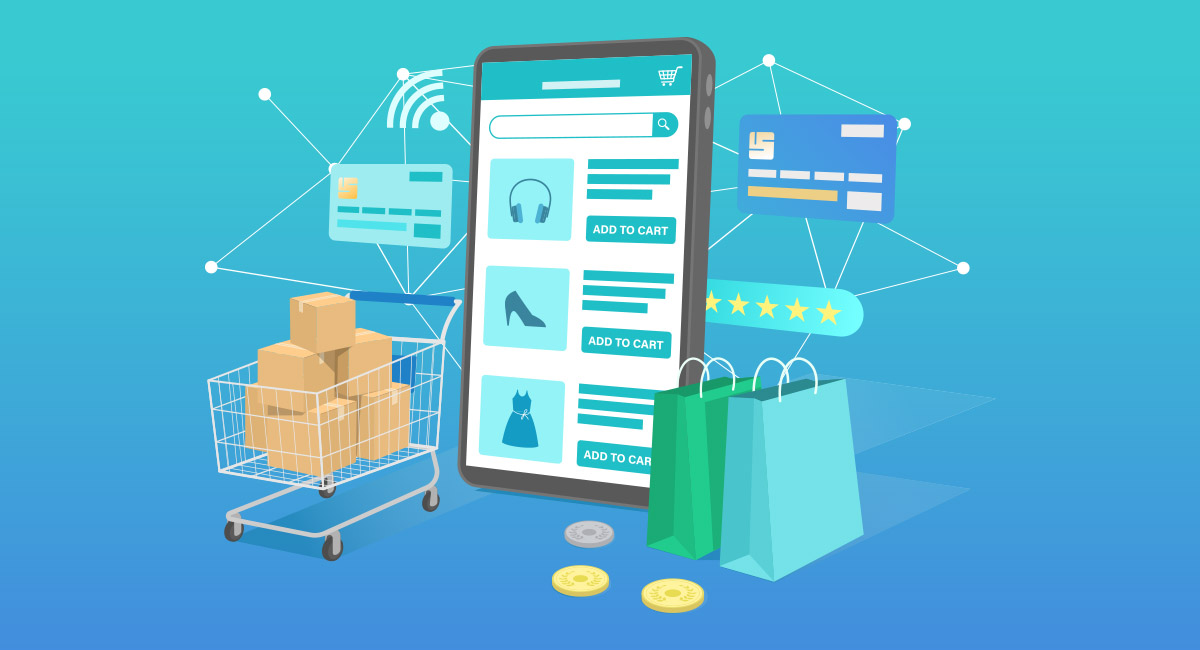 Mobile commerce has been growing dramatically over the last five or ten years, and mobile devices are now responsible for the vast majority of all ecommerce sales. If you're still neglecting mobile customers, you're missing out on a significant source of revenue for your online store.
In this article, we'll take a look at the current state of the mobile ecommerce market and what vendors can do to get ahead in such a competitive landscape. While mobile ecommerce obviously shares some characteristics with conventional online sales, it's also important to focus on the unique aspects of mobile customers.
The Advantages of Mobile Commerce
Just as ecommerce offers a number of advantages over traditional retail experiences, customers use mobile devices for a few main reasons. These are some key benefits of mobile ecommerce compared to the more conventional ecommerce experience on desktops and laptops.
Instant Engagement
Email and other desktop channels are decent for engagement, but mobile interactions open up even more possibilities. Consumers generally have their phone with them throughout the day, so you can reach your audience and receive a nearly instantaneous response.
This element of mobile ecommerce makes it a particularly effective channel for flash sales and other limited-time promotions. Push notifications, SMS messages, and social media posts are just a few of the best ways to engage with your customers on their smartphones and tablets.
While mobile apps aren't right for every brand, they can add to your mobile engagement numbers and make it even easier for customers to interact with you within an ecosystem that you have complete control over. Mobile apps act as centralized platforms for everything related to your brand—getting a lead to download your app is one of the best ways to move them closer to conversion. According to Fortune Business Insights™, The global consumer electronics market size was USD 729.11 billion in 2019. The market is projected to grow from USD 689.45 billion in 2020 to USD 989.37 billion in 2027.
Quick Payments
With Amazon and other ecommerce giants setting the standard for online purchases, it's critical for smaller vendors to offer a simple, quick experience for their customers. Mobile customers are now looking for sites and apps that allow them to pay with their mobile wallet, rather than requiring them to enter credit card information every time they want to place an order.
Matching the Competition
In short, the most fundamental advantage of developing a mobile presence is that you won't be losing any ground to other vendors in your niche. If visitors have to spend extra time navigating your site on mobile devices, they'll simply look for another brand that offers a better mobile experience.
Modern ecommerce marketing is all about staying engaged with leads on as many platforms as possible. Implementing a mobile app—or at least a fully responsive mobile site—will make your brand more competitive and help you generate more sales across devices.
4 Tips for Mobile Commerce
1. Streamline Checkout
Reaching the checkout page is one of the strongest indications of interest you can receive from an ecommerce lead. These are some of your most valuable leads, so the last thing you want to do is lose sales at the last stage before the purchase is complete.
Any unnecessary checkout steps should be taken out in order to make the process as easy as possible for your customers. For example, there's no reason to require visitors to create an account in order to make a purchase. While you might encourage them to sign up with a discount or another small gift, you should always give them the option to check out as a guest.
Users who do want to create an account should be able to sign up through Google or social media. More customers will be willing to connect to those platforms compared to the number who will want to make a brand-new account for your specific store.
If your checkout sequence includes multiple pages, remember to add a progress bar so that buyers will be able to see how much they have left. This should help you cut down on cart abandonment and avoid losing sales at the last second.
Navigating a complicated checkout process and being required to create an account are two of the most common reasons why consumers leave during the checkout process. If you're having trouble increasing revenue on mobile devices, take a look at your site analytics to get an idea of where customers are giving up.
2. Remove Payment Friction
Similarly, we recommend supporting as many payment methods as possible in order to maximize the size of your potential audience. Failing to support mobile wallets like Apple Pay and Google Pay is one of the worst mistakes you can make when it comes to generating mobile sales. Of course, you should also support credit and debit cards as well as PayPal at a minimum.
Customers should also have the option during checkout to save their payment method for future purchases. Having to enter a credit card number every time they place an order will add unnecessary friction to the checkout process. One last quick tip: make sure that users can enter credit card information with the larger number keypad instead of using the regular keyboard.
3. Minimize Loading Times
Long loading times on mobile devices were the norm until the early 2010s, but mobile internet users are no longer willing to wait for websites to load. Every second your site takes to fully load will turn more visitors away and have a dramatic impact on your overall bounce rate.
With that in mind, reducing loading times is one of the most reliable ways to improve your ecommerce sales. However, optimizing site performance isn't always straightforward—in fact, it might take several changes and repeated tests to notice a significant difference in your average loading time.
The first element that could be hurting your site's loading times is your web hosting provider. Web hosts are responsible for making your website accessible to internet users, and their servers can make or break a site when it comes to both speed and overall uptime.
If you're using a shared hosting arrangement, your performance could be affected by traffic on other sites that use the same server. Consider upgrading to virtual private server (VPS) or even dedicated hosting as your presence grows and you start to receive more traffic.
Another good way to reduce loading times across devices is to implement a content delivery network, or CDN. Cloudflare and other popular CDNs optimize performance by loading certain elements from servers around the world. They're a particularly effective tool for sites that cater to an international audience rather than visitors from a single country.
Finally, make sure to compress every image that you add to your site. Lossless compression enables site owners to minimize the file size of an image without any negative impact on its resolution or fidelity. These three changes will go a long way toward improving your site performance on both desktops and mobile devices.
4. Consider Device Limitations
If you're designing a website for desktops and laptops, you can take advantage of all the real estate on the screen. Mobile devices, on the other hand, are a little more restrictive. Users generally use their smartphones with their thumbs, and poorly placed buttons can make the interaction significantly more difficult.
When testing the layout of your mobile site, make sure that it's built around the way in which people actually use their phones. Keep in mind that the comfortable range of motion varies widely from one device to another. Your visitors shouldn't have to adjust the way they're holding their phone just to navigate your website.
Mobile ecommerce can be incredibly complicated, but you should be able to take a step in the right direction by implementing these simple tips. With more customers making online purchases on mobile devices every year, there has never been a better time to update your approach to mobile commerce.