Water Bottle Delivery App Development
App Emporio offers a perfect solution for online water bottle delivery business. We provide you with a complete branding solution for online water bottle services. water bottle delivery app development is necessary for starting online water bottle delivery business. Our white label solution will help you to start your on-demand water bottle services. With the help of our app, you will be able to deliver water bottles at your customer's doorsteps as per their requirements. You can easily manage the different routes with the help of GPS features as well.
Procedure To Develop Your Own On Demand Water Bottle Delivery App
The Procedure Of On-Demand Water Bottle Delivery App Development Is Divided Into Four Main Steps As We Are Leading mobility service provider.

Perfect Planning
We collect the basic requirements for better understanding.

Development
We develop Android and iOS apps for your online services.

Testing
We do perfect testing and make your application bug free.

Launch
At the end, we will help you to launch with your brand name.
What We Offer In Our Water Bottled App Development Solution
To Make An Easy Process Of Online Services, We Offer Different Web Panels And Mobile Applications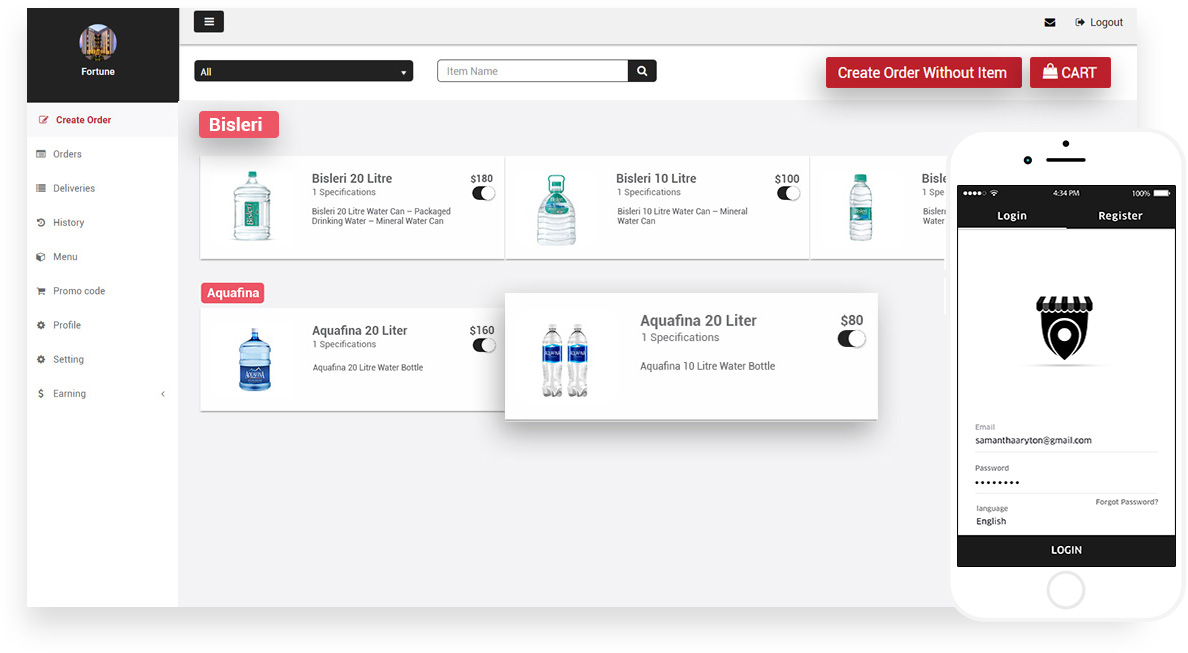 Online Order
With the help of mobile app and panel, outlet gets the online order of water bottles.

Manage Earning
They can manage the earning and see the daily, weekly and monthly earning reports

Reports and Statistics
They can see the statistics view of delivery, earning, rate and review etc.

Track Delivery Provider
With the help of GPS functionality, outlet owners can track the delivery providers.

History
They can see the history of all services like order, delivery, and payments.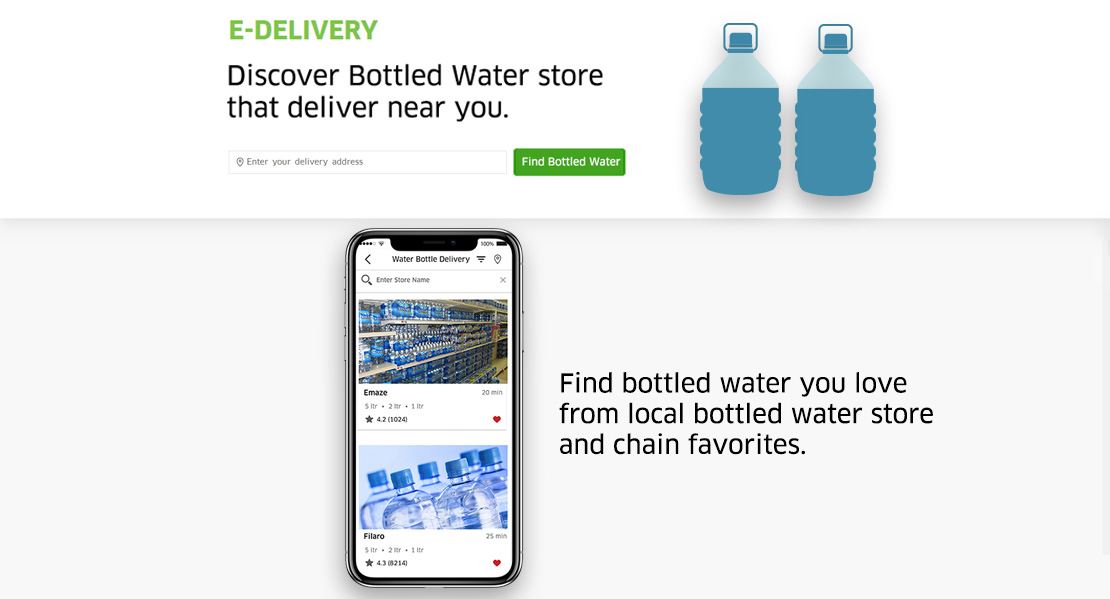 Login & Registration
Users can do login&registration by social media account like Facebook and Google + or they can use Email Id/Phone no. and Password.

Order Confirmation Notification
Users get the order confirmation notification with the details of delivery provider and order details.

Review and Rating
Users can share their experience related to services by giving the review and rate them on a scale of five stars

Select the Categories
Users can select the water bottle's category that they want and can also add the quantity of bottles they want.

Multiple Payment Options
Users have multiple payment options to pay for the water bottle and delivery charges. They can use online payment method or COD.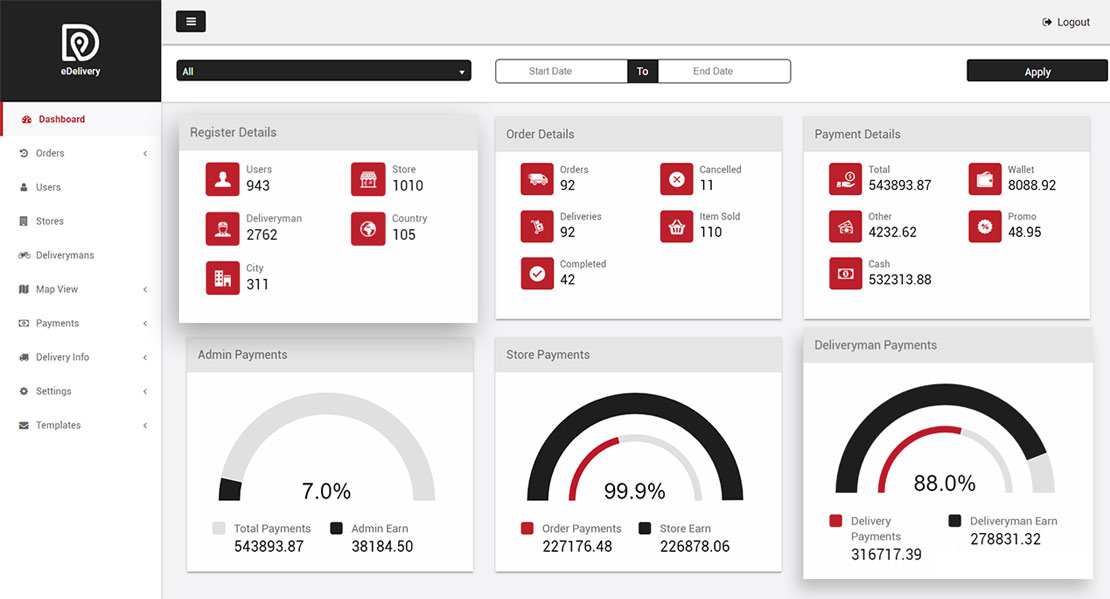 Manage users
Admin can manage all the users with their profile details.

Manage Delivery services
Admin can manage the all delivery services with its details.

Settings
Admin has an authority to do all the type of settings and changes on the delivery services.

Map View
They can track the delivery provider's location on the Google map.

Earning Management
Admin can manage the earnings with a graphical insight to understand all details easily.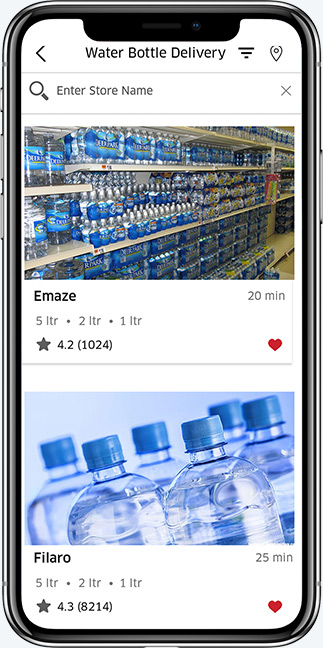 Social Media Login
With the help of social media, customers can do login and they can also use email id/phone no and password.

Access Multiple outlets
Customers can access the nearby multiple outlets to order the water bottle.

Real-time Tracking
They can do the real-time tracking of the delivery provider and know that when the order will arrive with the help of ETA.

Different Payment Methods
To pay the charges of a water bottle and deliver services, customers can use the different payment methods like online or COD.

Rate And Review
As per the services of water bottle outlets, customers can give their reviews and rate them on a scale of five starts.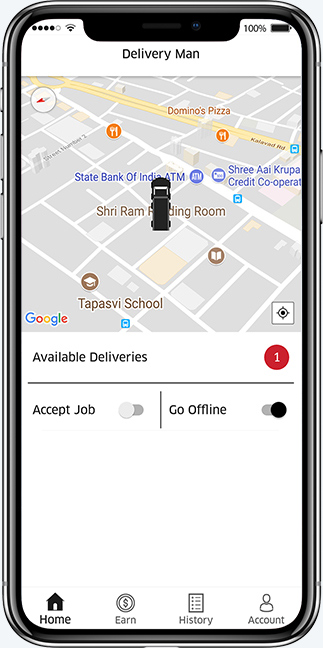 Document Submission
To do work as a delivery provider, they have to submit their required documents to the admin. After getting approval, they can start their work.

Profile Creation
Providers can create their profile with all details and profile picture and as per the requirement, they can edit it.

Accept/Reject Option
They get the delivery request from outlets and they have an option to accept or reject that request.

GPS Services
Providers have the facilities of GPS services. With its help, they can do route optimization and navigation for destination.

Manage Earning Details
Providers can manage their earning details with all history of the delivery services. They can see their daily, weekly and monthly earning reports.
Why Choose Us?
We Will Provide You Great Facilities With The Water Bottle App Solutions
White Label Solution
We offer you a white label solution for your business. In which, we will set your brand name and logo in the water bottle application.
Completely Customization
We provide the complete customization facility in our water bottle application. We are ready to do customization as per your requirements and business needs.
Custom Payment Gateway
We provide stripe as a default payment gateway, but as per the buyers' requirement, we will integrate local payment gateway for your on-demand water bottle application.
Easy Communication
We provide the calling and message facility in the application. With the help of it, customers and delivery provider can do communication if they have any query related to order and delivery.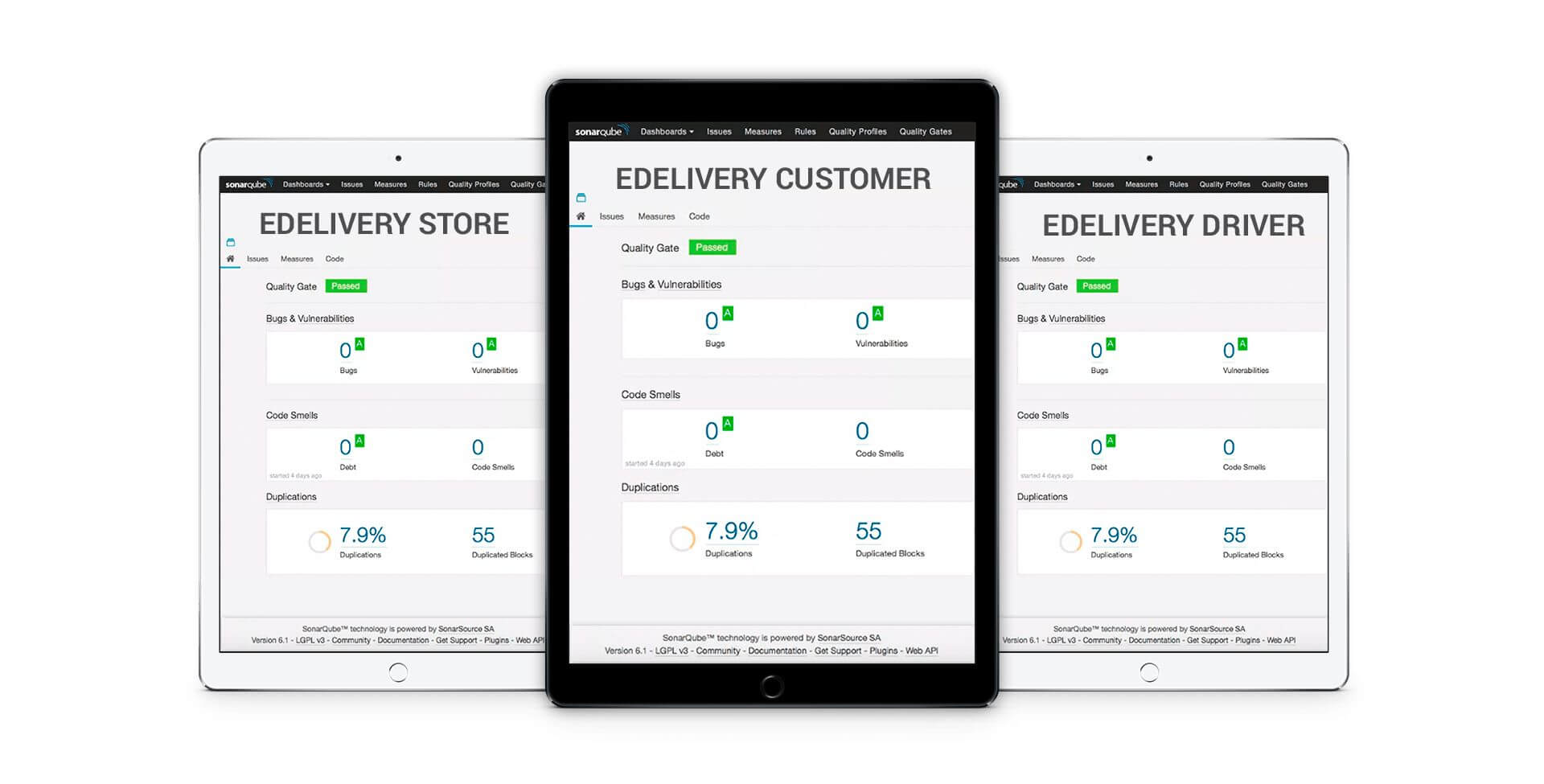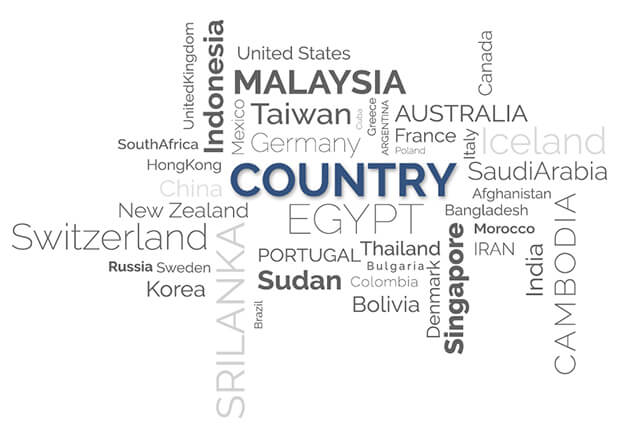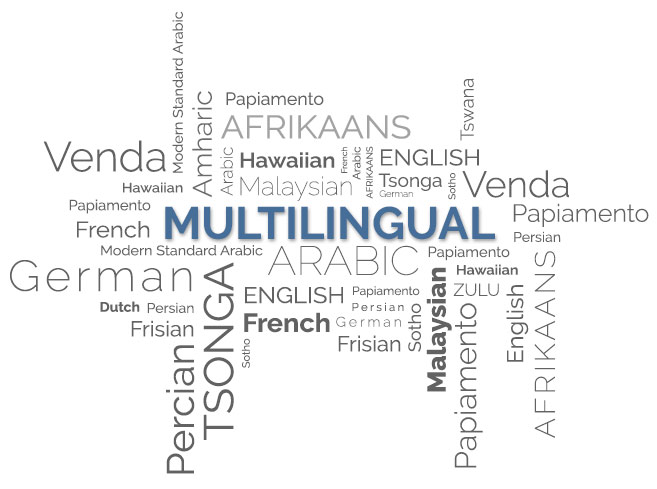 Choose Your Favourite Color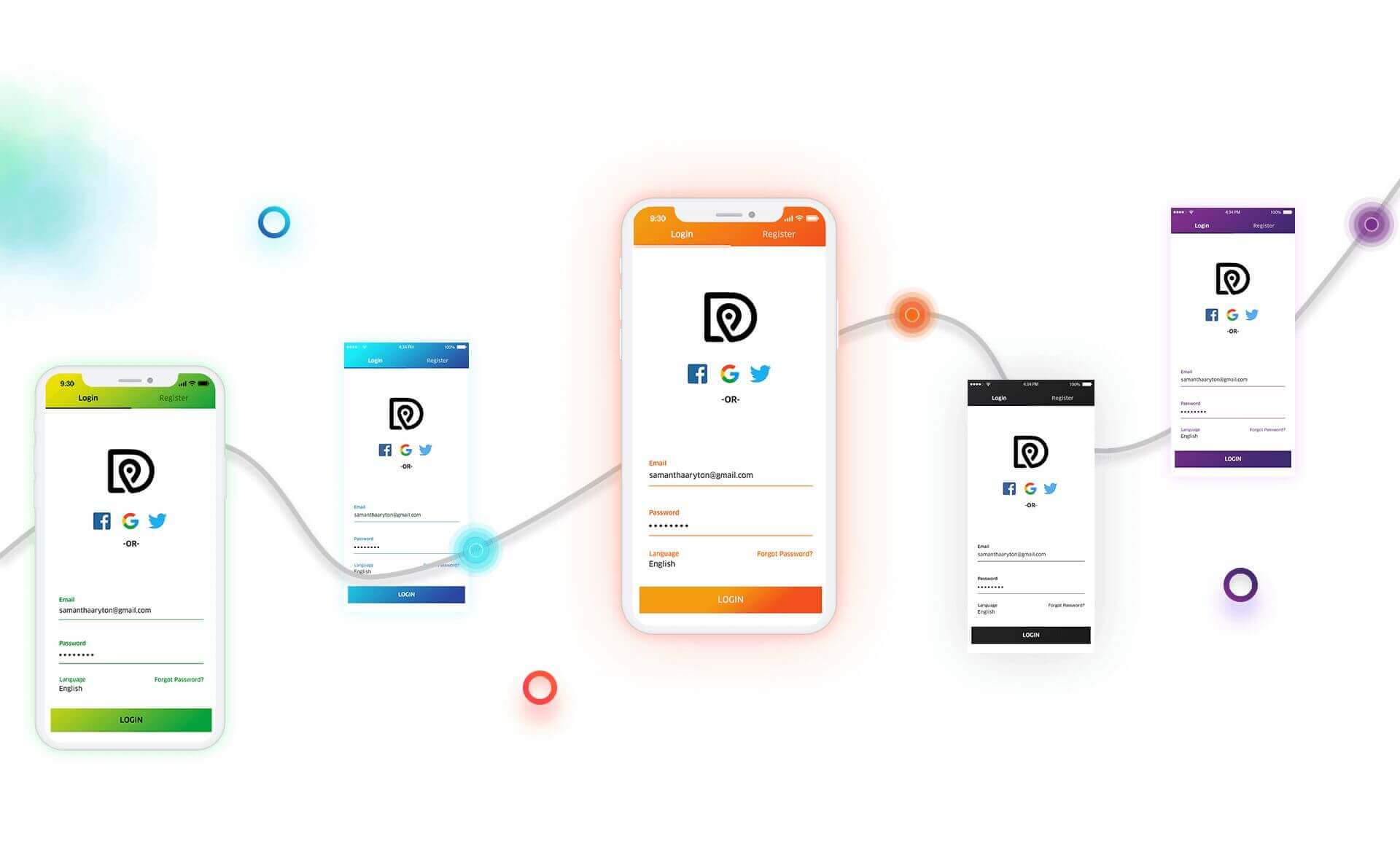 Clients Using Our Delivery App Across The World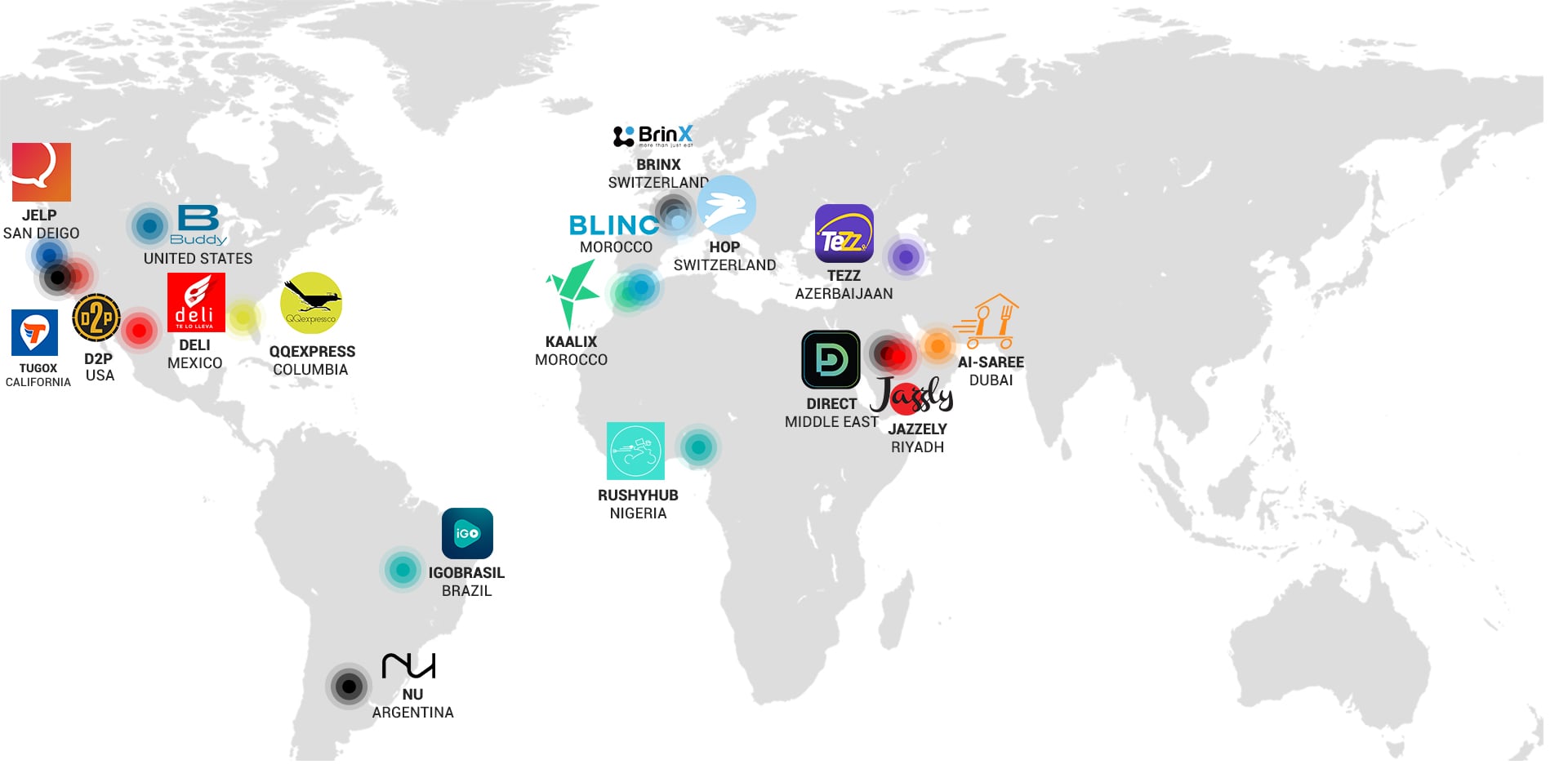 Want To Start Water Bottle Delivery Business On Demand?
Get the ready-made solution of water bottle delivery app development from us