When Was Google Founded? Timeline, Facts, and Its Major Milestones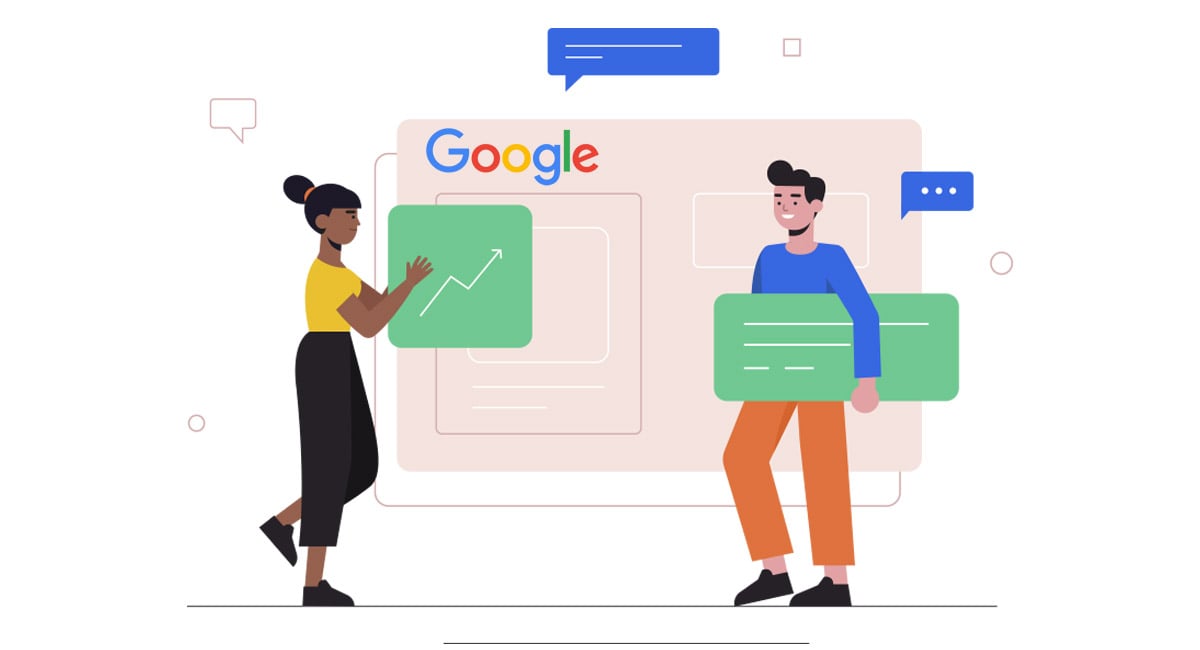 Don't you think, "Google It" has become a norm these days? People today heavily rely on the Internet to perform various activities. Google is the synonym for the Internet as it can answer all your questions and make life more convenient and enjoyable. No technology company is more valuable and responsible across the globe in this internet age than Google. The company that was established by two students from Stanford now manages more than eight products with more than one billion users each. In this blog post, we will take you through a timeline, facts, and major milestones of Google, right from its foundation details to its future plans. So let's get started.
From faster communication to accessing a large volume of information to experiencing an enriched lifestyle, Google continues to benefit us in multiple ways. Indeed, it is one of the search engines that has become an inevitable part of our daily lives.
Google is the most popular search engine globally; it handles more than 70% of all online requests and offers some premium services to customers, including cloud, hardware, software solutions, payment solutions, video platform, run ads platforms, etc.; it could not be wrong to say that Google can do anything within a blink of an eye.
With millions of people using Google daily, it has been voted one of the valuable brands across the globe. Larry Page and Sergey Brin have been known as the Thomas Edison of the Internet as they brought a revolution in the Internet sector. Today, Google operates in more than 100 languages and answers a trillion search queries every year.
When was Google founded?
In 1996, two graduates from Stanford University, Larry Page and Sergey Brin, met when Brin was assigned as Page's tour guide while he thought of considering taking admission at Stanford for grad school. Soon after their meeting, Page and Brin started working together to develop an algorithm for the search engine that became an important part of Google's business.
When they were assigned a project to develop a search engine, they named it Backrub. Later, Backrub was renamed Google in 1998.
Inspiration Behind the Name "Google"
Actually, there is a small story behind the name Google. Larry Page and Sergey Brin founded the popular search engine called Google. After a googol, the site has named the name for the number 1 followed by 100 zeros-got in the book Mathematics and imagination by Edward Kasner and James Newman.
According to the site owners, the real meaning of the company name represents the large amount of information that a search engine has to check through.
About Google
Brand Name: Google
Parent: Alphabet Inc.
Industry: Information technology
Founded by: Larry Page and Sergey Brin
Founded in: 1998
Headquarter: Mountain View, California, United States
Key people: Sundar Pichai, Ruth Porat
Area served: Worldwide
Number of acquisitions: 247
Number of investments: 137
Stock Symbol: NASDAQ, GOOG
Total Employees: 139,995
Website: https://www.google.com/
Initial Funding
Gradually, the Google search engine eventually turned into a trending topic. Sun Microsystems Co-founder Andy Bechtolsheim was impressed by the services of Google, and he told founders, "instead of wasting time in discussion, Why don't I just write you a cheque"?
Now you must be shocked to know that the cheque amount was $100,000 and was issued out to Google Inc., even though Google did not have any legal identity. The success does not stop here. Later, Page and Brin incorporated Google in September 1998, and that cheque from Andy enabled them to raise another $900,000 for their initial round of funding.
Other investors included Amazon. Com, founder of Amazon. Com.
Now Google has sufficient funds and finally opened its first office in Menlo Park, California.
And in 2004, the company went public and marked itself as one of the most popular and renowned tech firms across the globe. After that, Google launched a number of services, including Gmail, Chrome Web Browser, Hangout, and much more.
Google's Incredible Growth: Timeline and Milestones
The world's most renowned search engine is now 22 years old. Amid the period of rapid growth, the company has achieved various milestones and introduced a variety of products for users. Now, let's have a look at its growth timeline.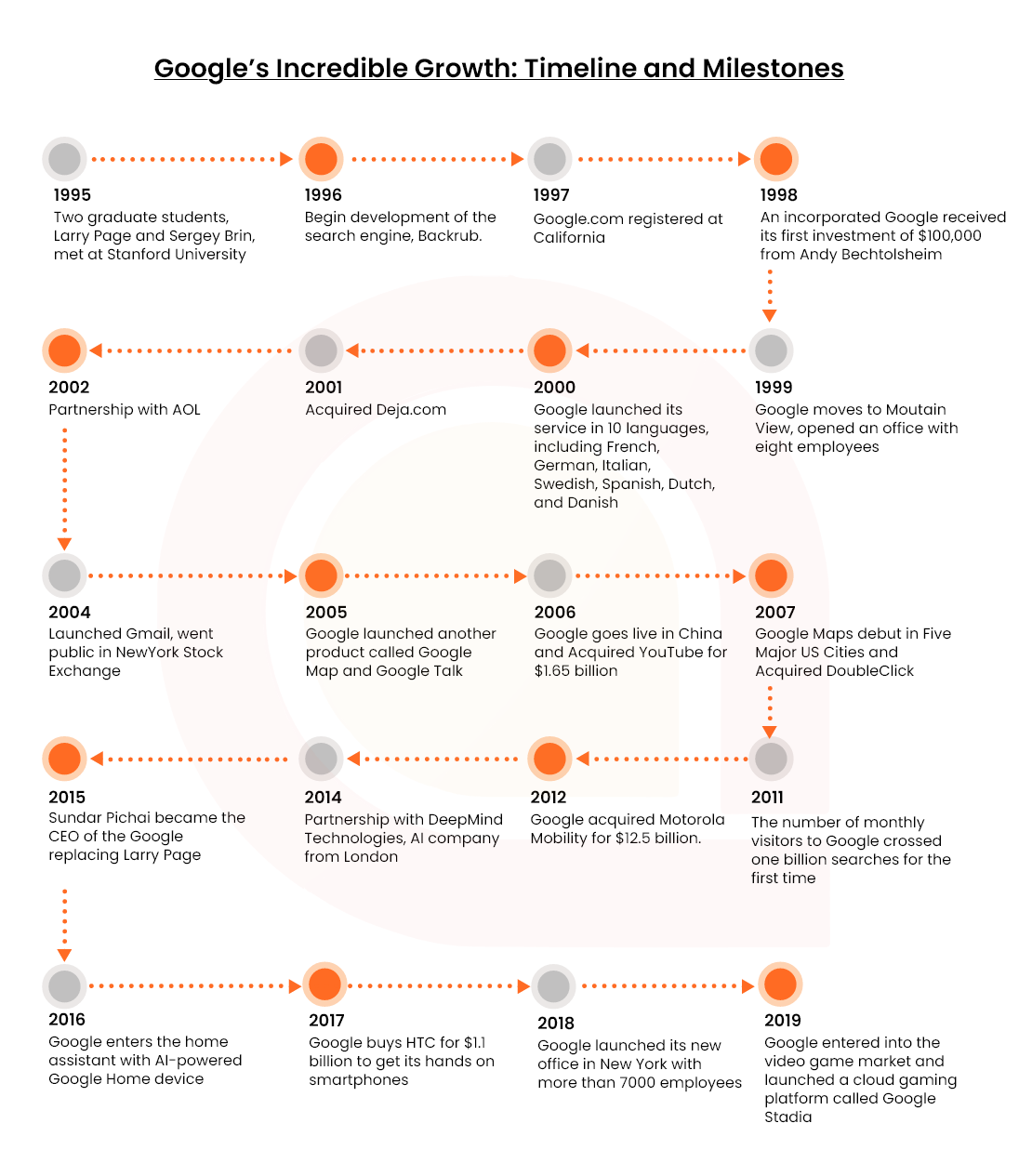 Google multinational technology is known as Google LLC. Specializes in Internet-related services, online advertising technology, cloud computing, computer hardware, search engine, and AI-based software.
It is among the top five technology companies in the US, followed by Facebook, Apple, Amazon, and Microsoft.
As of 2021, Google has a forecasted net worth of around $1201 billion, thus becoming the most valuable brand globally.
Top 10 Products and Services From Google
Indeed, Google is one of the most popular brands when it comes to search engines, but do you know the other products and services of this tech giant? Don't worry, here we have listed the most popular products and services of Google.
Google Search Engine
Google Chrome (browser)
Gmail (mail service)
Android (mobile operating system )
YouTube (video platform)
Google Adsense ( Advertising service)
Google Drive (document storing and sharing)
Google Ads ( online advertising service)
Google Maps (location service)
Google Docs ( create, edit, and docs while on the go)
These are the most popular products and services of Google to date. Currently, Google is also working on some other important projects such as Google Fiber, Project Loon, etc.
Last Words About Google
Google is one of the most visited and popular websites worldwide. Right now, Google has offices in 50 countries and has become an integral part of our lives. Its success story and growth timeline are awe-inspiring. Google's future is bright like the sun; users and webmasters are eagerly waiting to see what they will launch next.