What Business Tips You Should Follow to Make A Mark in a New Normal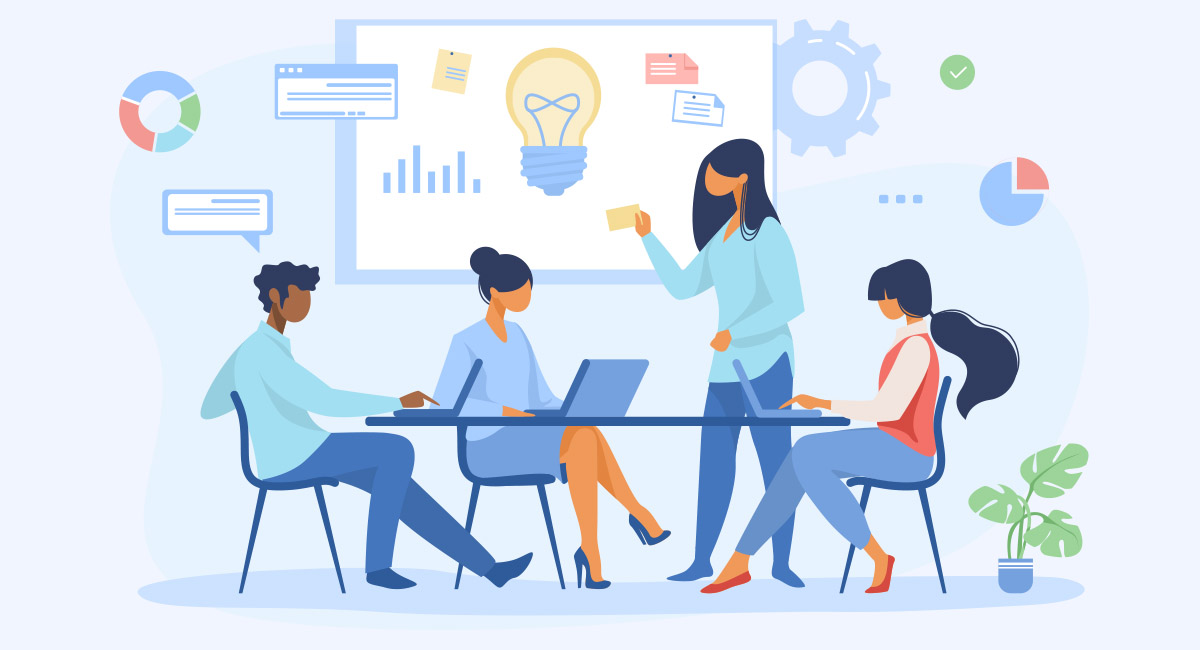 Since the outbreak of the Coronavirus pandemic, the business landscape has transformed for good. Companies across various industries struggle with business closures, social distancing measures, tighter budgets, and changing customer expectations. Hence, business people are seeking some valuable business tips that can help them pass through these challenging times.
Consequently, business owners need to revamp their approach for Know your business management. Here are several steps to apply right now.
[toc]
Customer Satisfaction Remains a Top Priority
Since the outbreak of the Coronavirus pandemic, businesses have become more aggressive against their competitors. The economic crisis has forced them to shift to adapt faster to maintain a competitive edge and survive.
One of the most significant business tips you need to consider is customer relationship management.
In 2020, Econsultancy and Adobe performed their Annual Digital Trends survey. They asked B2B businesses to emphasize essential business growth opportunities for 2021. According to the survey results, 20% of companies emphasize the importance of customer experience. CX surpasses content marketing,video marketing, and business automation.
However, the approach to customer relationship management has changed over the past year. With social distancing norms becoming commonplace, the communication between brands and customers has evolved.
In 2021, consumers focus more on empathetic brand experiences. They are getting savvier when making online purchases and more aware of their choices. The Coronavirus has encouraged the use of digital technologies and online shopping tools. The number of customers shopping in the digital landscape is growing at an astonishing rate, putting us a few years into the future.
Therefore, one of the major marketing trends for 2021 and beyond is delivering seamless digital customer service. Still, many companies do not understand the full potential of these technologies. The above mentioned Adobe x Econsultancy survey backs me up on that. Namely, 60% of survey respondents say that, if they were customers, they would get frustrated with their companies' digital experiences.
Some of The Best Business Tips To Consider
It is important for the professionals to survive in these tough times and they should take some necessary actions and seek business tips that can leverage their business model. Hence, here are some of the best business tips for professionals to consider.
Delivering Omnichannel Customer Service
No one expects you to digitize customer support overnight. That is a long-term process that requires lots of planning. Most importantly, you need to perform it strategically.
For starters, build your CX roadmap and identify the customer support channels that resonate with your target audience. Apart from the traditional call centers and email support, you should also invest in live chat, instant messaging apps, and social media interactions. These channels humanize customer experiences and boost their relationships with your brand. Hence, it is one of the best business tips you should consider.
Allowing for Self-Service
Companies are pushing to use self-service technologies to deliver frictionless customer experiences in the New Normal. According to Zendesk, 67% of consumers prefer self-service over interacting with company representatives. The same study found that 91% of customers would use an online knowledge base.
Add a Knowledge Base to your Website
Creating a detailed knowledge base on your website is a traditional self-service solution. It should be an informative, self-serve online library. A knowledge base should provide customers with the details about your products, services, or departments. To make it user-friendly, break it down by the topic and add search boxes to help users find their answers faster.
Daniel Ndukwu, CoFounder of GetSolitaire experienced the power of a knowledge base firsthand. He says:
In one of my companies which I've since divested from, we were inundated with help requests and struggled to keep up. We decided to build a comprehensive knowledge base to offset some of these issues. We made sure to inform our users with email blasts, blogs posts, and even let them know when they'd send us support requests. Within a few weeks, our ticket volume dropped by half and our time to resolution also reduced considerably.
Leverage AI Chatbots
To handle the rising need for self-service, many companies are turning to artificial intelligence. For example, in 2018, businesses automated only 25% of customer interactions through AI and ML. In 2023, this figure will reach 40%.
Chatbot technologies are easy to integrate with your website, social channels, and mobile apps. They provide customers with 24/7 support, irrespective of their time zone. Above all, they facilitate and gamify user experiences. For example, they collect customer data, provide personalized product recommendations, or allow users to place orders.
Rethinking Online Sales
In 2021, ecommerce goes far beyond retail websites. Today, customers expect brands to address their needs at different touchpoints.
One such example is social networks. When browsing their Instagram feeds and come across a perfect product for themselves, customers want to purchase it immediately. That is where Instagram shopping ads help. They let users tap a product tag for more information and learn how to buy it.
Mobile shopping apps also facilitate online purchases. They attract mobile shoppers, improve shopping experiences, and inspire brand retention.
Focussing on your People Still Remains The Best Business Tips
The COVID-19 pandemic has changed almost every aspect of HR management, from recruiting to offboarding. To adapt, businesses needed to align their HR operations with the New Normal. Here are some of them.
Also Read: Best Case Study Example To Check
Recruitment Goes Digital
One of the hottest trends that have emerged in the recruitment process is remote interviewing. It is not optional anymore but a necessity for any savvy business during the Coronavirus crisis.
Remote recruitment means that job interviews are taking place via video conferencing software or specialized video interviewing tools.
For HR managers, that is the opportunity to cast their nets wider and hire international talent. You can also offer a pre apprenticeship or training programs for your future employees. To find the top candidates in the online landscape, you can expand your search to specialized job posting platforms and professional social networks.
Recruitment is another HR area you can fully automate. You can use a wide range of smart talent platforms, such as chatbots or natural language processing, to identify the right candidates, automate the selection process, and streamline hiring.
For example, recruitment chatbots engage candidates and provide details about jobs. NLP communicates with employees more naturally and provides accurate responses to their questions. That is how they encourage candidates to apply for jobs faster.
Promoting Employee Wellbeing
Since the beginning of the pandemic, employers are focusing more on employee wellbeing. Researchers asked for employee feelings about how their managers handled the pandemic. The statistics show that over 60% of employees feel satisfied with their employers' responses to the pandemic.
The goal is to prioritize employee wellbeing.
Offer Remote Work
For starters, offer permanent remote work options. Allow employees to choose where they will work from. While some are eager to get back to the offices, others prefer working from the comfort of their homes.
Encourage Teamwork in a Distributed Team
Look for new ways to support your employees. While remote work improves employee performance, it can affect their collaboration. They may feel less connected to their coworkers.
To increase teamwork, you can gamify user experiences. For example, create virtual games, host book clubs, and have off-the-clock events.
Provide Mental Health Help
The pandemic impacts employee morale and physical health. It has left many employees grieving lost family members and friends. Many are feeling disengaged, knowing that their lives will not go back to normal any time soon.
To support them, provide mental health assistance. Encourage employees to talk to you openly about their problems. You can even offer them professional help.
Manage Risks and Ensure Business Continuity
The Coronavirus crisis has taught us that the business landscape can experience a 180-degree turn in a few weeks. To maintain your competitive advantage and ensure business continuity, you need to mitigate potential risks in the future. Most importantly, prepare your company for future COVID-19 scenarios.
For starters, you will need a detailed business continuity management strategy. It covers several factors, including infrastructure, employee, operational, and data security risks. Business continuity plans aim to ensure continuity and production, regardless of the problems your company is facing. Hence, business continuity is one of the important business tips to consider in tough times.
If you already have a business continuity and crisis response strategy, adapt it to the current Coronavirus crisis.
Determine your Infrastructure Risks
When adopting a hybrid work policy, you need to assess the readiness of your organization to implement it. Here are several steps to take:
Analyze the readiness of your software and networks for the higher load of remote workers.
Check whether you can remotely manage business systems without the physical presence of your IT team.
Define employee responsibilities while working remotely.
Enable access to corporate systems and files.
Analyze your application licenses that enable remote access.
Map Out Business and Operational Risks
The goal is to predict operational issues in the future that may halt your production or harm employee performance.
Identify points of failure within your company, such as your technologies, processes, or staff.
Estimate the highest operational risks. Prepare plans and measures to restore business operations.
Determine emergency measures and instructions to enable operational continuity based on the level of risk.
Prepare for supply chain issues to prevent underproduction.
Cybersecurity Risks
Since the beginning of the Coronavirus pandemic, many companies have shifted to remote work. Like we mentioned above, these work arrangements provide greater flexibility and boost employee satisfaction.
However, remote work also poses greater cybersecurity risks for your company. That is why you need to identify major data security gaps and address them on time.
Check application security for remote access
Test applications for remote access
Educate employees about social engineering attacks, phishing, and similar data security risks
Over to You
Running a business in the New Normal requires out-of-box business tips and strategies. It takes a lot of patience, strategizing, and resourcefulness. While these are just some of the numerous business management tactics to apply during Coronavirus, they may serve as your solid starting point.
How do you manage your business operations in the New Normal? We are listening!